​
New research from Checkatrade has revealed changing attitudes to female tradespeople, finding that a career in the trade industry is now more encouraged than ever for women, with 70%* of British parents expressing that they would support their daughters to go into a trade-based career – mirroring the percentage who would encourage their sons in to the same vocation (71%).
Intent to hire female trades is also growing amongst homeowners. 79% of men stated that they would hire a tradeswoman the same as a tradesman – up 13% versus 20 years ago. However, despite the evolving industry, almost one fifth (17%) of Brits have struggled to find a tradeswoman as demand for female trades is hampered by supply.​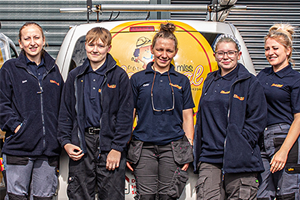 · Almost 8 in 10 (79%) of men say they would hire a tradeswoman the same as a tradesman
· Encouraging diversity (23%) and challenging stereotypes (20%) are seen as the biggest advantages of hiring a tradeswoman
· Over three quarters of Brits (78%) said that a trade's gender would not make a difference in their trust
Charlotte Carter, Director at Checkatrade welcomes the rise of intent, stating, "We've seen a big shift in the industry over the past five years, with more and more empowered female businesses owners joining Checkatrade, choosing to run their own business and work for themselves. We are so proud of our brilliant female members, who are challenging outdated stereotypes and preconceptions."
Checkatrade-approved Little Miss Electricals' team of electricians has a pioneering female-only workforce. Owner Cathy Cockin admits, "I was never given the option of a career in trade when I was at school, this always seemed to be reserved for the boys only, while everyone else was pushed towards an academic path at college and then university."
Despite this outdated stereotype, Cathy is now flying the flag for females in the electrical industry, with her business one of the highest rated on Checkatrade within North Yorkshire. "My advice for women? Just go for it! Get as much work experience as you can, get stuck in and have a go. Always ask questions, don't take no for an answer and keep persevering."
Besides empowering females and tackling gender stereotypes, a third of parents would encourage their child to pursue a career in the trade sector as there is a lot of money to be made as a tradesperson (33%), as well as the opportunity to run their own business and work for themselves (31%). ​