​
Schneider Electric, the leader in the digital transformation of energy management and automation, has announced the launch of the Acti9 Active Safety System, the latest in the Acti9 range of safety system controls offering a digitally enhanced connected system with complete visibility at final distribution.
The next generation of Acti9 Active, which features the hybrid Acti9 Active arc fault distribution board (AFDD), brings an innovative addition to the Acti9 Isobar P range of distribution boards, incorporating efficiency, safety, and best-in-class connectivity compliant with the latest wiring regulations BS7671 18th Edition Amendment 2.
Through alarms and pre-alarms, the Acti9 Active Safety System alerts and protects against electrical faults, providing electricians with the ability to detect a fault and work efficiently and safely to fix it. The Active Safety System consists of three elements that simplify what would be a complex connected system: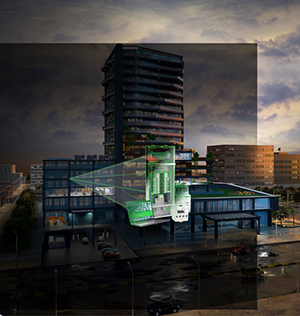 Acti9 Active device and Hybrid distribution board – a single 36mm device that acts as an Active all-in-one breaker offering enhanced visibility and greater protection from arc-fault related fires
EcoStruxure Panel Server – the gateway allowing the connectivity down to the final circuit in the distribution board
EcoStruxure Power Monitoring Expert – the software platform that enables electricians to easily view the information coming from the distribution board at final circuit levels
Historically, energy meters were used in distribution boards to show an aggregated view of multiple circuits. However, the Acti9 Active Safety System's total integration of circuit protection, gateway, and software mean that, for the first time, enhanced visibility is available at the final circuit level. This allows electricians to be one step ahead of the electrical system so they can proactively address potential faults and issues before they occur.
Furthermore, the level of information provided by the Acti9 Active improves operational resilience and reduces overall downtime for the electrical system. By having complete visibility of what is happening within the system itself, electricians and building owners have unprecedented control, allowing them to make informed decisions to achieve their energy efficiency goals and make changes to support their sustainability journeys.
Nico van der Merwe, VP Home & Distribution at Schneider Electric, said "The Acti9 Active Safety System brings unprecedented visibility and connectivity for electricians, without compromising on safety. The electrical industry is undergoing monumental changes, and this solution helps electricians to navigate the complex changes by providing a ready-made offering compliant to the latest regulations."
To learn more about the Acti9 Active Safety System, click here. ​