South & City College Birmingham, University College Birmingham and The University of Birmingham have joined forces to launch a new Foundation Degree in Electrical and Electronic Engineering.
Officially announced on Tuesday 23rdOctober 2018 at Bournville College, one of South & City College's eight campuses, the new degree collectively developed by the three educational establishments offers a unique pathway for students looking to pursue a career in Mechatronics and Robotics.
The dedicated launch event was led by Sardul Dhesi, Deputy Principal of South & City College, who introduced numerous guests from each arm of the partnership.
Speakers included Mike Hopkins (Principal of South & City College), Alex Lofthouse (Deputy Vice-Chancellor of University College Birmingham), Kathy Armour (Pro-Vice Chancellor of the University of Birmingham) and Bob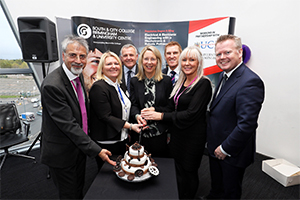 Howlett (Head of Faculty for Construction Studies & Technology, South & City College).
Paul Faulkner, Chief Executive of the Greater Birmingham Chambers of Commerce, also showed his support and spoke highly of the collaboration between some of the most highly-respected educational establishments within the city.
Mike Hopkins, Principal of South & City College, said: "This unique programme provides a fantastic new route to the University of Birmingham for many of our students, as well as helping meet our regional skills needs. We pride ourselves on the quality of teaching in Engineering – our lecturers have vast experience of the sector and many hold PhD qualifications."
The two-year Foundation Degree will be taught at Bournville College, after which the students will progress on to a final year of an Engineering degree at the University of Birmingham. There will also be opportunities for paid summer placements with local employers.
A major aim of the programme is to boost students' digital, technical and employment skills, and as a result, employers such as Alstom UK & Ireland, Telent and National Grid have contributed towards the development of the specialised course.
For more details, please visit: https://www.sccb.ac.uk