DALI lighting provides convenient and energy-efficient lighting control in commercial premises, where simple on/off doesn't quite cut the mustard any more. Occupants – and energy bill payers – are increasingly hearing about how daylight harvesting makes best use of natural light by automatically dimming as daylight varies according to the time of the day and weather shifts. They want a share of the benefits!
In practice, that usually means DALI lighting control and, if you can find an easy way of providing that, you can compete with the bigger contractors for the more profitable jobs. They will love you for it.
A new generation of presence detectors do just that, because they enable installers to set up a DALI system of up to 50 lamps in three zones or groups using no more than a finger on a retractive (push to make) switch.
First, a reminder that there's no real magic to installing DALI lighting. The main difference be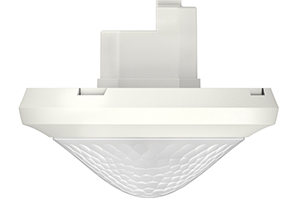 tween it and a conventional 230V switched system is that the luminaires need to be DALI compatible and that, once installed, unlike a traditional 230v circuit they are always live. In a DALI system the switching signals are controlled by an additional 2 core communication cable, the lights can then be commanded to perform requested actions, such as switch on/off, dim up/downor call up a pre-set scene. Installations therefore require two extra cores, a simple case of pulling in a 5-core cable instead of the usual 3 or 4 core cable. It's straightforward for a competent installer.
There are different levels of complexity, with more advanced DALI systems offering energy monitoring, lamp or ballast failure notification and automatic emergency lighting testing. Scene setting can change a room from conference mode to video-watching mode at the push of a button.But a DALI install doesn't need to be this in depth or complicated. The technology can now be used for smaller installations, single rooms and with a single focus on saving energy without compromise on maintaining comfortable and safe lighting levels.
A DALI network often consists of an LCM (lighting control module), a DALI power supply (which may be built into the LCM), DALI luminaires and one or more DALI-compatible control devices (switches, dimmers or PIR detectors). The DALI control signals are sent to the ballasted luminaires which can respond individually, in groups or in rows depending on the way they are programmed.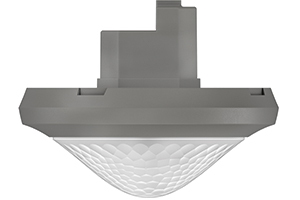 By integrating the control element and power supply into a PIR occupancy detector, Theben has provided an easy-to-install, easy-to-commission, stand-alone DALI solution for offices, meeting rooms and classrooms. All the benefits and energy saving credentials of occupancy detection combined with daylight harvesting can be met quickly and easily. It's a game changer.
Theben's the RONDA DALI occupancy sensor has 3 light sensors, to detect light levels in different zones of the room and can control up to 50 luminaires which can be allocated to the three groups in any combination. So, if, say, a row nearest the window is in strong daylight then those fittings will dim down to save energy, those in the middle row may dim slightly less and those at the back of the room will remain at 100%. The factory settings provide the perfect lighting conditions at desk level (500 lux) with a 10 minutes time delay. However these settings plus many more are fully adjustable, by using an intuitive APP and IR remote control.
The really clever part is how each LED luminaire is assigned to its row or group: simply using any retractive (push to make) switch in the circuit. Once the system is put into commissioning mode (using a set sequence of presses) the first luminaire will flash: 1 press of the switch assigns this fitting to row or group 1, 2 presses to row 2 and 3 presses to row 3. Then you move onto each light in sequence. It couldn't be easier, it can even be done with the remote control. Reassigning lights at a later date is simply a case of going into commission mode again. Should a ballast or luminaire fail then, as long as they are removed and replaced one at a time, the PIR will reassign the fitting in the correct location.
It's DALI occupancy sensing and daylight harvesting at your customers' fingertips! For more information about DALI Lighting please click here