Global workwear brand Dickies has launched a search for 'real' tradespeople to model its clothing and footwear, in a break from traditional workwear advertising.
Photography will be shot on site at their place of work – or within a typical working environment – and images will be used in print advertising, brochures and flyers, plus in social media activity. Content will be focused on their passion for their jobs and how their workwear supports them on a daily basis.
"Dickies is designed and made for real tradespeople, so it makes sense to use those who rely on our workwear to model our ranges," said James Whitaker, Marketing Director for Dickies.
"We are striving for our advertising to be authentic. We don't mind if our 'real' models have pot bellies, tattoos, yesterday's stubble and there is no age limit! We hope that showcasing our workwear on other tradespeople will resonate well with our customers."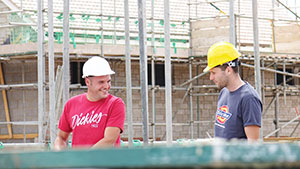 Those who wish to put themselves forward for consideration are invited to apply via email to: dickies_models@vfc.com, using the subject line 'Make me a Dickies model'. Applicants should include a photo, plus their name, age, location, measurements and their trade.
The Dickies marketing team will select a range of tradespeople of different ages from across the country. Dickies will visit and photograph/film each model in their place of work. The campaign will run throughout 2018 and beyond.