The lighting industry has broadly welcomed new legislation which seeks to bring back the replaceable light source. However, many had concerns over how the market for replacement components would work in practice.
Over 150 attendees from across the industry tuned in to listen to the second Recolight circular economy webinar. A panel of six discussed the impact of forthcoming EU and UK Ecodesign legislation, under which lighting manufacturers must incorporate removeable light sources and control gear in their products. This was a timely debate with the regulations due to be implemented in September 2021.
On the panel were Ray Molony of the Build Back Better awards who also chaired the event, Peter Hunt of the LIA, Dee Denteneer of Zhaga Consortium, for end users perspective, Geoff Coffin of Store Maintenance Limited, representing lighting manufacturers Phil Muir of Designplan Lighting, and Sophie Parry of Zumtobel Group.
The impact of Ecodesign regulations on lighting

Introducing the event Ray Molony asked the panel "How will this work in practice? Some fear that the replaceability requirements will create a technical, interoperability and warranty minefield."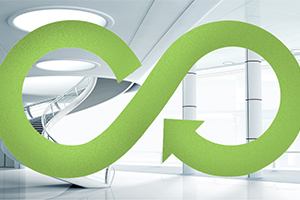 The legislation requires manufacturers to ensure that the light sources and control gear can be replaced with the use of commonly available tools. Manufacturers will be obligated to provide technical information on how the components can changed. In some cases, the light sources and gear can be changed by the end-user; in others, by a 'qualified person'.
Geoff Coffin said he would like to see replacement components that are easy to procure, install, and competitively priced. "We then need to educate users and prove that this can be done to the benefit of the environment and their pockets."
Phil Muir commented that "Maintainability has to be designed into new luminaires at the initial design stage."
Sophie Parry proposed that luminaire types should be segregated by market sector to prepare relevant guidance on technical, interoperability, warranty, on site repair or re-purposing issues. This proposal was picked up by Peter Hunt, who indicated that the LIA would consider options for guidance on this basis.
Dee Denteneer hoped that eco-design rules would bring about greater awareness with end users/contractors about the need for re-use and recyclability. He added that interoperability is fundamental to Zhaga consortium members and many end users.
In conclusion the panel agreed that:
• The Ecodesign regulations may move more lighting to a service model
• This is the first step towards circular economy legislation – there will be more.
• The industry would benefit from guidelines that identify the best practice approach.
• Manufactures need be able to demonstrate extended life cycles, and the benefits this brings.

This was the second in the 2021 Recolight webinar series focusing on Lighting and the Circular Economy. To view the replay and register for future events, please visit the Recolight Event Page.