State-of-the-art building wiring, supplied by Digitus, complies with the latest IEEE802.3bt and 3at standards, enabling both interconnection and power supply of network technology at the same time.
Hirschau, Germany, July 2020. Conrad Electronic expands its comprehensive range of industrial-grade building service supplies by adding Digitus electrical wiring products.
"Ever-increasing data volumes in the time of digitalisation necessitate a building infrastructure that develops continually. In this regard, structured building wiring allows for the transfer of large amounts of data at the optimum energy efficiency levels," explains Sven Prang, product manager at Conrad Electronic. "The flexibility, scalability and durability of the solutions, provided by Digitus, enables us to supply our customers with a future-proof package." All Digitus wiring products are state-of-the-art and conform with the new Power over Ethernet (PoE) IEEE802.3at/3bt standards.
Structured wiring constitutes an approach to non-specific electrical wiring within and across buildings. Covering everything from server rooms, intra- and inter-building cable and wiring needs to sub-distribution, Digitus supplies a comprehensive range of all-in-one solutions that ensure a neat high-performance infrastructure. One of the key advantages of structured wiring is the PoE supply of IT equipment, using Ethernet data cables to power devices which renders additional power feeds unnecessary. PoE comprises two different supply types: namely, mid-span and end-span power. End-span power involves switches that also serve as power sourcing equipment (PSE), supplying downstream devices. On the other hand, applications centred around non-PoE switches normally rely on mid-span power provided by PoE injectors placed between switches and destination devices, supplying power via Ethernet cable.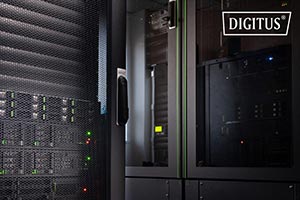 Server rooms, their small-scale equivalents, and switchboard cabinets form the backbone of any IT infrastructure and, hence, of structured building wiring. Conrad stocks all required Digitus components including 24-port patch panels, Mini GBIC (SFP) modules, fans, OM4 patch cables, and LC OM4 splice boxes.
Electrical wiring needs to meet a wide range of requirements that, among others, includes fast transfer of large data volumes and high reliability. Using both fibre optic (FO) and copper wiring is highly recommended, particularly when it comes to cables that run vertically. Whilst FOs are the preferred option for covering the distance between server rooms and the distributors on each floor, copper cables are still considered the top choice for connecting end devices. In this context, Conrad supplies PoE-enabled CAT.7 S/FTP simplex cables with AWG/23/1 copper cores from the Digitus portfolio.
Sub-distribution concerns the splitting of the main wiring into feeds for individual workplace equipment. This is achieved by so-called consolidation points in the form of GHMT-certified keystone modules housed within junction boxes fitted to office desks or placed in ceiling cavities, underfloor and under raised floors. These modules directly connect to the switches, making traditional distribution boards on each floor a thing of the past.
Digitus products are entirely centred around structured electrical wiring of buildings, covering server rooms, individual workplaces, desk equipment and everything else. The components themselves are highly versatile, enabling straightforward modification both within buildings and at the system level, with the whole infrastructure being able to be adapted as needed in the process.
More information about Digitus and Conrad's industrial-grade building service supplies is available at:
https://www.conrad.com/search?brand_any=Digitus&brand_any=Digitus&search=Digitus