Embrace life safety excellence at FIREX International 2020 – 19-21 May 2020, ExCeL London
FIREX International is the UK's largest event dedicated to the fire safety profession, connecting more than 130 suppliers of innovative products and solutions with thousands of engaged visitors from over 70 countries. The event is completely free of charge and its comprehensiveness have established it as an essential global hub for sharing and demonstrating fire safety excellence.
With major fire incidents constantly in the headlines, FIREX International is more important than ever for creating a transparent, effective and progressive industry meeting the fire safety challenges of 2020, driven by the show's guiding ethos of making life safety 'a right, not a privilege.'
The show is your platform for sourcing the very latest products and solutions across passive fire protection, fire prevention and fire detection, including sprinkler and suppression systems, emergency lighting and more. It is a unique opportunity for you to meet and build connections with major, industry-leading suppliers such as Advanced, Apollo, Hochiki, Kentec and much more. You'll meet technicians on hand to explain, discuss and demonstrate their solutions, so you can understand whether they fit your fire safety strategy and make the right purchasing decisions with confidence.
Your free pass also gives you access to an extensive programme of seminars, workshops and keynote speeches designed to help you increase your knowledge, boost your career, stay aligned with legislation and new developments. Taking place at the Expertise and Guidance Theatre, you can learn from top industry experts and thought leaders covering diverse topics such as the aftermath of Grenfell, recent legislation and best practice.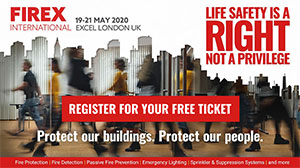 And with thousands of visitors in attendance, FIREX International presents you with an unrivalled networking experience. Each year, the show attracts manufacturers, installers, end-users and consultants eager to do business, ensuring you can get a broad overview of the market, add valuable new contacts to your address book and guarantee a return-on-investment.
You can also keep up to date with key industry developments, trends and technologies by meeting key fire safety associations such as the FIA, LPCB, FPA and ASFP, and find out what they have to offer you and your business.
One of the most unique aspects of FIREX International is the opportunity you have to engage with an enormous network of professionals and suppliers from related industries at eight free-to-attend co-located shows. You can grow your expertise and find new avenues to expand your business with insights from security, health and safety, facilities management, smart buildings, workplace wellbeing, forensics and emergency services with your FIREX International event badge.
FIREX International is an essential date on the fire safety calendar. Make sure you seize this valuable opportunity to learn from experts, share best practice and enhance your ability to protect people and assets and get your free all-access pass now.