The Premium Floor Matting suppliers, First Mats have unveiled a brand new range of safety message floor mats designed to bring a heightened level of health and safety compliance to commercial and industrial workplaces around the country.
The innovative safety message mats highlight potential dangers and communicate essential safety information such as fire escape locations to staff and visitors with highly-visible messaging that simply can't be missed.
The new First Mats range is available in a choice of five different standard safety messages, all inspired by common industrial safety signs, warning of forklift truck operation, ESD hazards, ear protection or hard hat requirements as well as a Fire Exit floor mat. The safety message mats are based on the firm's popular Logo Mats which means that in addition to these standard designs, First Mats can also create custom safety messaging mats at no additional cost and will add additional options to the range later this year.
Each of the five safety message mats is available in a choice of three sta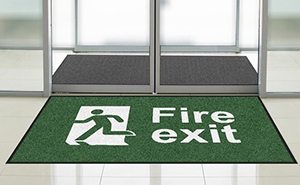 ndard sizes, ranging from 60 cm x 85 cm to the larger 115 cm x 180 cm, with the option to request your own bespoke size. As well as being practical from a safety perspective, the mats also pull double duty as high quality, functional floor matting for busy commercial and industrial spaces.
The mats feature a slip resistant Nitrile rubber backing and hard wearing pile fibres for long-lasting durability even in areas of heavy foot traffic. The absorbent surface material also absorbs dirt, dust and moisture, keeping workplaces clean and hygienic, whatever the weather or position of the mat.
Marketing Director, Richard O'Connor said:
"All workplaces will have safety signs in place to draw attention to things like fire exits of course but the problem is the signs are often small and are easy to overlook. Printing the safety warning onto a mat is a smart, highly visible solution that can be used to pre-emptively warn staff and visitors of important safety information in a way that is much more noticeable than a small sign stuck to the wall. The great thing about this range is that it's also highly functional and, while we have a core stock of five standard safety signs, we can create bespoke mats featuring safety notices specific to any type of workplace on request."
The safety mats, from First Mats, range starts from £66.50 (excluding VAT). To find out more and view the products, please click here