Consisting of mounting rails and flat linear lighting inserts, the new flexible trunking system TruSys offers homogeneous and energy-saving lighting for large areas. The lighting inserts can be easily clicked into place either as a continuous or intermittent lighting strip and mounted on the ceiling surface or suspended. The TruSys family of products from LEDVANCE can be installed in rows of up to 81 luminaries, achieving an overall length of 124metres, making them ideal for large industrial spaces.
The exclusive "Scale" luminaire design is also used for the TruSys family with its high-quality and lightweight anodized aluminum housing. The mounting brackets are recessed in the rails and therefore almost invisible from the outside which adds to TruSys' clean appearance, and internal holders keep the luminaire in place whilst being mounted. With a luminous efficacy of 135 lumen per watt, they are very energy-efficient.
TruSys offers four different lenses: the wide-beam lens has a homogenous light distribution for uniform wide-area illumination in rooms with low ceilings – for example in workshops and factories. The narrow-beam lens offers the ideal lighting in areas with high ceilings, which is needed in high-bay warehouses. The double asymmetric lens version has bidirectional light distribution and is ideal for illuminating two shelves; and the wallwasher version offers single directional light distribution for highlighting single shelves or walls. The selection of the right lighting solution for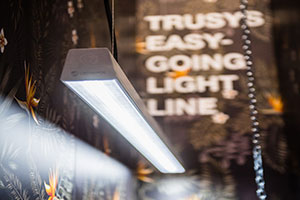 each area within industrial applications helps to boost concentration, eliminate errors and improve efficiency.
All versions of the TruSys family are available in warm white, cool white or daylight colour temperatures to help create the ideal working conditions.
ABOUT LEDVANCE
With offices in more than 50 countries and business activities in more than 140 countries, LEDVANCE is one of the world's leading general lighting providers for professional users and end consumers. Having emerged from the general lighting business of OSRAM GmbH, LEDVANCE offers a wide-ranging assortment of LED luminaires for a broad spectrum of application areas, intelligent lighting products for Smart Homes and Buildings, one of the largest LED lamps portfolios in the industry, and traditional light sources. In fiscal year 2017, LEDVANCE achieved a turnover of around 1.9 billion Euro. Based on an agreement with OSRAM, LEDVANCE will continue to use the trusted OSRAM brand for many of its products (SYLVANIA for the USA and Canada). Further information can be found at www.ledvance.co.uk.
Please contact LEDVANCE for more information on their lighting solutions: www.ledvance.co.uk