Harvard Technology, a pioneer in smart wireless lighting solutions, has appointed Gary Lynch as Chief Executive Officer (CEO).
Mr Lynch joins Harvard Technology in its 25th year following renewed investment by a group of renowned investors. He brings a wealth of experience to the post, having previously held senior roles with ICL, Celestica, Glen Dimplex, Nikon Metrology and GE.
Mr Lynch said:
"I am delighted to become a part of this pioneering and highly re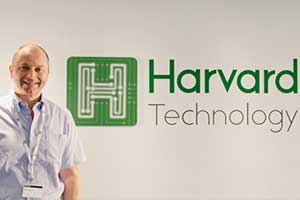 garded company. Harvard Technology's R&D investment has enabled it to remain a market leader for so many years as it continues to launch state-of-the-art products. We will build on this reputation going forward, as we continue to create innovative market-leading solutions."
"Our team has the ability to offer customers a full package of leading edge technologies, so I am looking forward to getting to know our customers and share our vision for the future, as we continue to re-focus on our core values and our acclaimed brands"
Established in 1993, Harvard Technology is customer focused, offering best in class products and services to the provide high quality and delivery performance that our customers expect.
Harvard Technology Background Information:
Established in 1993, Harvard Technology has grown to become a leading player in the design, development and manufacture of energy saving lighting solutions. Harvard Technology's innovative ranges of products include LED Solutions, combining the market-leading CoolLED LED drivers, LEDeng light engines, and CustomLED design and placement service, as well as the ingenious monitoring and management system for indoor lighting EyeNut, and the wireless remote monitoring and control system for street and outdoor lighting LeafNut.
For more information about Harvard Technology, please click here