Health & Safety North is back in Manchester for 2018 and is dedicated to anyone responsible for health and safety at work within industrial, commercial or public sector businesses.
Following a hugely successful event last year in Manchester, Health & Safety North (9th- 10thOctober 2018) returns for its eleventh edition, creating a space for the health and safety community to come together to explore current challenges and propose answers for the future.
Over 200 exhibitors will gather at EventCity, Manchester. First time exhibitors Blaxtair, Amosite, Venis, and TUV-SUD and the best of the industry can be found at this year's show. 2,000 visitors are expected to attend as health and safety practitioners from across the north of England gatherto test the latest technology, witness the most up-to-date solutions and confer with like-minded professionals.
Established over 10 years ago, the event continues to gain momentum and will take place at EventCity for the second time. This larger venue accommodates for the increasing attendance and enables the expanded programme of educational seminars, industry debates, practical presentations and equipment displays.
In addition, Fire Safety North is co-located with Health & Safety North and visitors can attend this independent event as well as having access to its own wealth of CPD accredited content and major brand representation. Co-locating the two provides the opportunity to connect with the fire safety community, with three streams of professional content dedicated to helping companies maintain a safe, secure and cost-effective business.
Partners of Health & Safety North 2018 include Access Industry Forum, IOSH, Energy Institute and Nebosh, with a special strategic alliance formed with BSIF who believe that this event offers the best platform to publicise innovation, service and excellence. Alan Murray, BSIF's CEO, says 'Health and Safety North has become a must attend show with value adding content helping to ensure that those who keep people safe and healthy while they are at work are supported'.
Attendance of individuals from these organisations ensures you will find an abundance of opportunities to obtain and discuss insightful and direct information.
Key Exhibitors
Since opening registration, there has already been an overwhelming response from the health and safety sector and those wanting to exhibit to display their products and solutions. Companies who are already registered to attend include; 3M Training Ltd, Berendsen UK Ltd, British Red Cross, Ejendels, HAVI, Lighthouse (UK) Ltd, Safety Media and many more.
A new supporter for 2018 is the Access Industry Forum and they will be exhibiting at the show to discuss with visitors the fundamentals of their organisation's message 'Work safely and competently at height using appropriate equipment with personnel professionally trained to industry recognised standards'. Since 2004 they have worked with several recognised health and safety organisations to establish safer standards and regulations and now provide a forum for all principle trade associations and federations.
Casella will be exhibiting at Health & Safety North with their latest range of occupational hygiene and environmental monitoring solutions. This includes real time dust monitors, personal air sampling pumps, sound level meters, personal noise dosimeters, hand arm vibration and environmental monitors. Casella's products are user friendly ensuring that data for risk assessment can be obtained quickly, simply and precisely. Visit one of the UK's leading providers in this field at stand G60.
DuPont Personal Protection is proud to demonstrate its continuing commitment to providing protection solutions by unveiling a new suit at this year's show. Visitors to Stand E20 will discover the new Tychem® TK fully encapsulating suit for emergency responders, as well as a totally rebranded portfolio of protective garments to bring ease when selecting the appropriate level of protection.
NEBOSH, a supporter of the show and HSE have joined forces to develop a new qualification for the process industries – the NEBOSH HSE Certificate in Process Safety Management. Members of NEBOSH's team will be at stand N28 where delegates can find out more about the Certificate in Process Safety Management as well as NEBOSH's suite of other qualifications.
Ladderstore are pleased to announce that they have joined forces with WernerCo and will be hosting a stand alongside them this year. Senior Marketing Executive, Bushra Imtiaz says 'We're looking forward to seeing everyone at the main Health & Safety event of the year'.
Once again ProtectHear® will be visiting the show to prove the effectiveness of custom ear plugs and stop claims of Noise Induced Hearing Loss in companies. They will be at stand J55 with the interactive cost saving calculator and an array of disposables and samples.
Growing in all areas year on year, including visitor and exhibitor attendance, Health & Safety North provides a wealth of networking, informational and purchasing opportunities for health and safety professionals looking to run a safe and efficient work place.
Educational Content
Confirmed as the show's educational partner, the British Safety Council (BSC) will deliver this year's conference content with 36 hours of CPD accredited sessions lead by 56 outstanding speakers offering valuable and insightful seminar sessions that cover the most important areas challenging the industry.On Tuesday morning, the BSC's Head of Audit and Technical Lead Dave Parr will be speaking on how to prepare for ISO45001 and BSC will be at stand K40 with experts on hand to discuss their full range of health, safety and environmental management training, auditing, advisory and membership services.
Confirmed topics for Day One range from legal updates and the new ISO to the importance of training and how accidents can affect mental health. 'Your Choice', a session hosted by Active Training Team, takes participants on a journey to examine the factors that lead to the aftermath of a near fatal accident. This multimedia experience revolutionises training in the workplace and uses technology to open-up the opportunity to train and engage people in innovative ways.
On the 10th, wellbeing at work is highlighted, with talks on engagement culture, keeping workers healthy and behavioural safety. Experts from Law Firm of the Year 2018, Pinsent Masons, will advise on 'Managing a Fatal Accident and Dealing with an Inquest' in preparation for when the worst happens.
The vastly popular Safety Dialogue Theatre is back, featuring panels of experts taking part in interactive question and answer sessions with an audience on pertinent health and safety topics including managing noise and vibration, working in confined spaces and training and competence. This initiative is actively supported and sponsored by expertise from 3M and isan excellent chance to share experiences with peers and network with a panel of recognised authorities.
All sessions featured in the Health & Safety North seminar programme are CPD accredited. Continuing Professional Development helps individuals focus on how they can become a more competent and effective professional with training and learning being the key to increasing confidence and overall capability. Keeping up to date with industry requirements is a must in this sector and Health & Safety North is the perfect place to do so.
Speakers
Every year since being established, Health & Safety North has prided itself on gathering the industry's most respected voices to share fresh perspectives and insights on the challenges and solutions of today. This year's no exception with the confirmed speakers specialising in training, legal compliance and behavioural safety culture.
Discovering ways in which to inspire and engage employees with learning is a constant necessity for all industries and it holds real value in the health and safety sector. 2 Macs have perfected this and, by designing effective, lasting training programmes, they make an impact on businesses. Shaun Curry and Harry Gallagher will bring some of this knowledge to Health & Safety North by sharing their eclectic techniques and experiences in managing performance, influencing and coaching.
Rhian Greaves, Legal Director at Clyde and Co LLP, is recognised as a key individual in the UK health and safety market. She has 15 years of legal experience behind her and has specialised her career in the defence of criminal regulatory actions, principally in the fields of health and safety and environmental law, with clients in a range of sectors including construction, manufacturing, utilities, FM, nuclear, and waste.
A team leader of the original UK research into behavioural safety (in construction), Prof Tim Marsh, is undoubtedly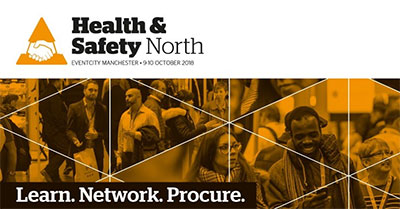 worthy to be considered a world authority on safety leadership, organisational culture and behavioural safety. He has run courses for IOSH, created concepts for IIRSM and written best-selling books, and is recognised for his expertise by organisations all over the world.
The entirety of the unrivalled professional content available at Health & Safety North has been curated specifically for the health and safety practitioner. The event offers visitors the chance to hear from industry pioneers and actively participate in the discussion, debate and confrontation of the biggest topics and issues the H&S industry is facing in 2018.
Join the conversation and register today for live debates, interactive Q&A sessions and the chance to network with thousands at Health & Safety North 2018.