Renowned lighting specialist, Ring, has introduced three new worklamps that deliver on providing light solutions for all professions.
All three worklamps are lightweight, durable and flexible, so the user can use their light with confidence and focus on the job at hand.
The RWL400 is a battery operated worklamp that has a dual light head and two handles that can be altered to be freestanding at multiple different angles, which allows for full flexibility. It's 400 lumens and has 16 hours of operating time.
The RWL600 and RWL1000 are both rechargable via USB C and have handles attached, so that the light can be hung or be freestanding, ensuring that it is completely adaptable for the user. The RWL600 has 600 lumens and has an operating time of six and a half hours, with a two and a half hours recharging time, whereas the RWL1000 has 1,000 lumens, an eight hour operating time and it takes four hours for it to recharge.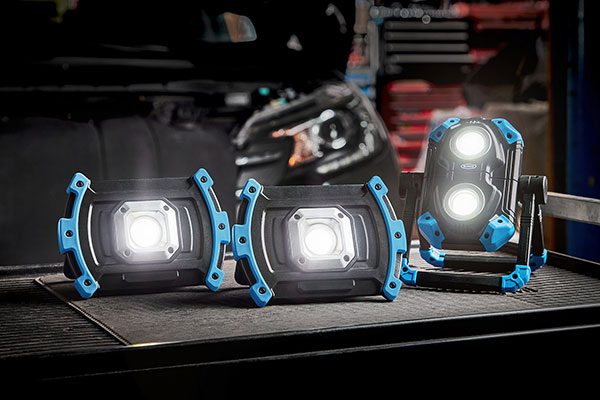 Being lightweight and compact in size makes it ideal for mechanics and tradesmen to move easily and reposition when needed. Both units also come with a handy powerbank function so tradespeople can charge mobile phones or devices when at work.
Each of these lamps is designed to give the user an adaptable solution that can 'flood' the area they need with light, so they can work efficiently.
Available at all leading motorfactors and hardware stores.
SRPs RWL400 £14.99 / RWL600 £19.99 / RWL1000 £29.99
About Ring Automotive (an OSRAM business)
Ring is a leading vehicle lighting and electronics supplier to the automotive aftermarket, with over 40 years of lighting experience. Since 1974, Ring has constantly innovated to advance vehicle lighting, and later expanded into supplying a wider range of vehicle electronics and workshop equipment. This includes Ring's range of LED inspection lighting, professional battery tools, tyre inflators, dash cameras and other automotive accessories. Additional information can be found at www.ringautomotive.com.
Ring is a an OSRAM business, having been bought by the company in May 2019. Ring is the distributor of OSRAM and NEOLUX branded products in the UK.
About ams OSRAM
The ams OSRAM Group (SIX: AMS) is a global leader in optical solutions. By adding intelligence to light and passion to innovation, we enrich people's lives. This is what we mean by Sensing is Life.
With over 110 years of combined history, our core is defined by imagination, deep engineering expertise and the ability to provide global industrial capacity in sensor and light technologies. We create exciting innovations that enable our customers in the consumer, automotive, healthcare and industrial sectors maintain their competitive edge and drive innovation that meaningfully improves the quality of life in terms of health, safety and convenience, while reducing impact on the environment.
Our around 22,000 employees worldwide focus on innovation across sensing, illumination and visualization to make journeys safer, medical diagnosis more accurate and daily moments in communication a richer experience. Our work creates technology for breakthrough applications, which is reflected in over 15,000 patents granted and applied. Headquartered in Premstaetten/Graz (Austria) with a co-headquarters in Munich (Germany), the group achieved over EUR 5 billion revenues in 2021 and is listed as ams-OSRAM AG on the SIX Swiss Exchange (ISIN: AT0000A18XM4).
Find out more about us on https://ams-osram.com or https://osram.co.uk/am.
ams is a registered trademark of ams-OSRAM AG. In addition many of our products and services are registered or filed trademarks of ams OSRAM Group. All other company or product names mentioned herein may be trademarks or registered trademarks of their respective owners.
Join ams OSRAM social media channels: >Twitter >LinkedIn >Facebook >YouTube