Lee Stones, senior product marketing manager at Glen Dimplex Heating & Ventilation, which includes the Xpelair brand, looks at the issue of indoor air quality – and how electricians can support their customers in helping to improve the quality of air we breathe through effective ventilation products.
When the Government published its draft Clean Air Strategy for consultation last year, it set out plans to tackle emissions from a range of sources, including agriculture, industry and homes.
Acknowledging that air pollution is about more than roadside emissions from diesel cars, the document raises – amongst other issues – the emerging health issue of indoor air quality. And in doing so, it reinvigorated the focus placed on the quality of the air we breathe indoors.
A vital issue
The Clean Air Strategy notes that up to 90% of our time is spent indoors and despite years of debate around the detrimental impact of poor pollution outdoors, taking measures to identify and improve the quality of the air we breathe inside our homes and other buildings is a relatively new (yet rapidly growing) notion. In fact, the levels of some air pollutants are often far higher inside than they are outside1.
The biggest cause of poor indoor air quality is Volatile Organic Compounds (VOCs), which can be emitted from a whole host of everyday items such as furniture, carpets, paints, cleaning products and even building fabrics and materials.
VOCs can be detrimental to a person's health, especially when exposed to them for long periods of time. They can also aggravate pre-existing health conditions and cause fatigue, dizziness and headaches.
Moisture is another source of poor air quality, with a risk of mould in bathrooms or from drying damp clothes, whilst carbon monoxide, odours, carbon dioxide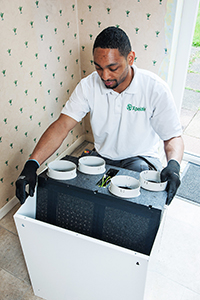 and tobacco smoke are all known pollutants in buildings too.
The effects of all these issues will be further increased as increasingly stringent energy efficiency targets have driven the development of better insulated buildings, leading to a decrease in natural ventilation and even more air tightness in properties.
Domestic solutions
Whilst this is a huge issue for customers working in commercial sectors such as offices, education and healthcare, the issue applies inside the home too. Especially in light of the dramatic changes we have seen in building standards and efficiency targets in recent years which have ensured new homes are warmer and more energy efficient, but they are unable to breathe naturally.
Part F of the Building Regulations states that there are four categories of ventilation product that an installer can choose from: Intermittent extract fans and background ventilators, passive stack ventilation, centralised or de-centralised mechanical extract, or Mechanical Ventilation with Heat Recovery (MVHR)
Each have their own advantages and disadvantages, with different categories better suited for individual properties, requirements or circumstances, but manufacturers have responded to the challenges with continued development of products across all categories.
Harnessing the power of MVHR
With growing awareness of indoor air quality, however, it is MVHR which seen the most rapid development and deployment in recent years.
Offering the opportunity to extract air from the building through a central heat exchanger and recover heat back into the air supply, the concept of MVHR is gaining traction as a method of enabling energy recovery whilst addressing health concerns through a cost-effective, mechanical, balanced ventilation system.
In fact, MVHR is fast becoming the only ventilation system that meets building requirements. It offers the benefit of providing ventilation that both supplies and extracts air through a property, whilst constantly supplying fresh filtered air.
To increase their effectiveness, the latest MVHR systems from leading manufacturers offer a host of features including ultra-fine filters, PIR sensor activity for enhanced efficiency and cold-climate pre-heating. Uniquely, Xpelair's Natural Air 180 also uses adaptiflow technology to deliver a constant volume of extracted air, thus giving homeowners assurance of the performance being delivered.
Ingredients for clean indoor air
Ventilation is not a one-size-fits-all approach and whichever sector you operate in, the one constant of a modern ventilation system is the need to balance energy efficiency with management of indoor air quality.
With modern ventilation systems, evolving Building Regulations and a greater focus on management of indoor air quality, this is now more accessible than ever.