NEC Birmingham will soon open its doors for the first time to InstallerSHOW, the UK's largest plumbing, heating and electric trade show.
Taking place from 21-23 June, InstallerSHOW will see over 300 manufacturers, 100 speakers and will see an estimated 10,000 visitors descend on its new home. Previously held in Coventry, the move to a larger venue reflects the immense transformation the plumbing, heating and electrical industry is currently undertaking.
The SHOW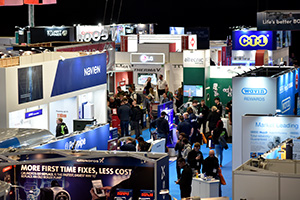 This year's event will have a specific focus on the practical steps the industry can take now for a more sustainable future.Leading the change are a number of local manufacturers, including Worcester Bosch, one of the UK's largest heating manufacturers.
Martyn Bridges, Director of Technical Services at Worcester Bosch, commented: "The industry is in a very different place to where it was 12 months ago. Recent changes have given installers the necessary but complex task of understanding how they can operate in a more sustainable and efficient way through the products and technologies they use and integrate. InstallerSHOW is an essential part of our strategy for better informing our installer community and equipping them with the tools and information they need in order to do their job more efficiently whilst also contributing to the wider drive towards Net Zero".
Mike Costain, Managing Director of Lyrical Communications added: "With an industry increasingly transitioning towards a Net Zero future, InstallerSHOW is also evolving to meet the demands of professionals eager for guidance on meeting Government targets and customer expectations.. We're delighted to be able to offer the industry this essential platform where they can get hands on with the products, technologies and people that are actively playing a role in shaping that future".
Some of the features visitors can expect at this year's show include
• Installing the Future. NOW! – designed to give installers a practical understanding of heat, biomass and hydrogen boilers, solar panels and energy storage.
• Wates Innovation Zone – featuring exclusive product demos developed in association with market-leading suppliers of sustainable technology to help in building design, construction and maintenance.
• Elemental theatres – focusing on net zero, retrofit and decarbonisation solutions in heat, water, air, and energy, aimed at decision-makers working in local authorities, social housing, and house builders.
Ian Taylor, Managing Director, Conventions & Exhibitions, NEC Group commented: "It's clear that a shift change towards a more sustainable future is necessary, and the organisers of InstallerSHOW are pivotal to this change. Birmingham is brimming with talented companies in this sector, who, whilst locally located, are contributing to the wider national movement to reduce our carbon footprint. Bringing the show to the NEC will create a positive trading environment for sharing expertise and ideas in this area across the heating and energy community."
For further information, or if you would like to visit InstallerSHOW please visit: Installer 2022 Registration
About Worcester Bosch  
Worcester Bosch was established in 1962 and has been part of the Bosch Group since 1996.  Manufacturing gas and oil boilers for domestic use from two manufacturing plants – Worcester and Clay Cross. Employing 1850 people in the UK, Worcester Bosch is the UK market leader in boiler technology. Worcester Bosch also has a range of smart controllers and renewable technologies.   
For more information on Worcester's full range of gas and oil boilers, please visit: https://www.worcester-bosch.co.uk/. Alternatively, follow Worcester Bosch on Twitter (@WorcsBoschCare), Instagram (@WorcesterBosch) and Facebook (@WorcesterBosch). ​