Designed to upgrade any bathroom, the ML range – the latest LED mirrors from Knightsbridge – is bursting with features the discerning householder will find appealing.
The top-of-the-range models comprise a demister pad, an on/off motion sensor, and include a dual voltage 115V/ 230V shaver socket outlet with independent switch control. The mirrors themselves, constructed from a pressed-steel base and high-quality glass, can be rectangular or circular, with a mini circular LED border design or illumination from a surrounding LED border. For reference, the product codes are: MLR6045SD (rectangular, back-lit design); MLC6045SD (rectangular design); and ML500 (circular design).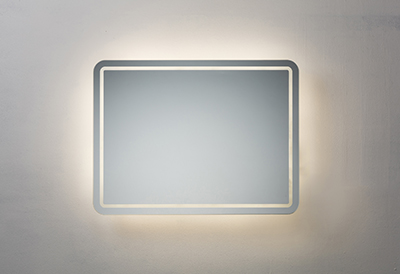 Practical and yet just as stylish, the VML1 vanity mirror light is equipped with a mirror that magnifies the user's face by three while it is lit by a frosted edge diffuser. The whole, wall-mounted unit is finished in polished chrome, and is easily positioned to achieve the best angle for shaving or applying cosmetics.
For those customers after a colourful experience, the RCTRGB is an edge-lit mirror with an RGB remote control to change the colour of the edge light to red, green, blue or warm white as required. The remote has a memory function to ensure that it switches on at the last setting.
Whatever style, functionality, shape or size, Knightsbridge has a collection of LED mirrors that will always reflect well on the homeowner, mixing good design with utility, practicality with a bit of pizazz.