By Paul Williams, Domus Ventilation Product Manager
Prior to a revision of Building Regulations in 2010, ventilation was not high on the list of priorities in the house building sector. A fan in the bathroom and cooker hood in the kitchen, plus ventilation blocks in the walls, were the default setting. Then, gradually, ventilation began to make it on to the agenda, largely driven by the now defunct Code for Sustainable Homes.
The Code required homes to be better insulated and more air tight to stop the heat leaking out of them and wasting energy. Of course, the more air tight a property is made, the greater the requirement for ventilation to ensure good quality indoor air. At the time the Code was in use, the focus was on preventing / removing condensation. More recently fears over pollution and over-heating have taken over as the imminent threat to the health of residents.
Changes to Building Regulations Part F announced this year acknowledges these issues and the important role ventilation has to play in maintaining good indoor air quality. It lays out more stringent ventilation requirements for new builds, plus proof of effectiveness, so ventilation can no longer be ignored or side-lined.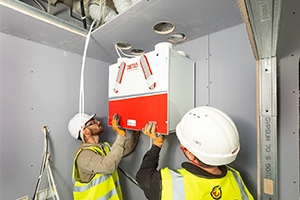 To ensure adequate, Building Regulations compliant, ventilation in a property and for it to be signed off by Building Control, then a mechanical ventilation system, such as a Mechanical Extract Ventilation (MEV) or Mechanical Ventilation with Heat Recovery (MVHR), is required.
One of the key issues identified when reviewing existing Building Regulations has been the fact that a large number of homes – including those using mechanical ventilation – are not compliant with Part F (ventilation). Why is this? Is it deliberate; cutting corners to save money? Or is it a lack of understanding of how mechanical ventilation systems work and how a whole system approach is required?
In our experience – which is considerable – it is a mixture of both. All too frequently key elements of a mechanical ventilation system are skimped on to save time and money and also because they are seen as unnecessary. Here we identify the five most frequent corners cut and why they matter, plus some tips for where you genuinely can make savings.
System Design
Designing a whole house mechanical ventilation system, especially an MVHR, requires a level of skill. Whilst the location of the air handling unit is normally straightforward, the duct runs, the number of bends and the angle of those bends, plus the temperature of the areas the ducting runs through, all affect the air flow. The air flow needs to be maintained at a set level if the system is to perform to its best ability.
To avoid the cost of employing the services of a qualified system designer, we have frequently seen builders and contractors taking an 'educated guess' at where to locate the ducting. This rarely ends well, especially when it's done more as an after-thought, when options for duct runs have become limited.
However, there's actually no need to cut costs here as most manufacturers will provide a system drawing free of charge, along with duct take-offs and estimations. The good manufacturers will provide on-going support so if you do run into any unforeseen difficulty you can call upon them to help you out of the problem. They want the system to work and they want your repeat business, so be sure to use their free support.
The Ventilation Unit
The most obvious place to try and reduce costs is to buy a cheaper MVHR/MEV unit. It's true, you don't always need the 'Rolls Royce' model, but going for the lowest cost option could actually cost you more in the long run. That's because, when it comes to a whole house mechanical ventilation system, a large amount of the cost is in the labour. Better quality units may come at a higher price, but they are often designed with ease of installation in mind.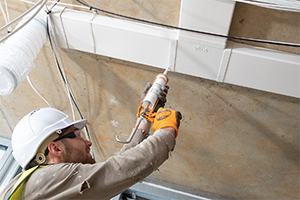 Look out for units that are compact and lightweight so can be handled by a single person (as well as giving you more options on where to install them); that are available as opposite handed models to allow for installation horizontally or vertically; and that have their controls accessible via a front panel for easy commissioning. Also check to see if the unit's spigots can be directly connected to the most common ducting size, rather than requiring adaptors and flexible hose to connect to flat channel ducting, which will end up adding to the bill.
Ducting
Sadly, ducting is the number one sauce of problems when it comes to mechanical ventilation systems as this is where most of the costs are cut.
Poor quality ducting that doesn't have exacting tolerances (i.e. where the channel or pipe bows, or looks like it is concave, or the wall thickness appears uneven), will not push fit together, so end up taking more time to install. More importantly, they result in air loss which reduces the system efficiency and increases the risk of moisture leakage around the connections which can lead to ugly stains. If you want your mechanical ventilation system to function correctly, it's imperative to invest in quality ducting that has been designed to work in harmony as part of a system and has been third party tested for end-to-end system performance.
A quality ducting system will also usually come with a range of accessories which allows for a variety of solutions to unforeseen site circumstances. Many of these are of a more specialist nature, such as ducting silencers and aerodynamic bends engineered to reduce system resistance.
Insulation
Ducting insulation is required under Building Regulations where the ducting passes through unheated areas and voids, such as loft spaces. The minimum duct insulation standard is the equivalent of at least 25mm of a material having a thermal conductivity of ≤0.04W/(m.K).
Specialist duct insulation, such as Domus Thermal, is essential to meet this requirement. A common mistake that is made is using insufficient insulation, using standard building insulation materials that are unsuitable or not using any insulation at all.
The problem with poor insulation is that condensation forms, which can lead to mould which is not only unsightly but can be hazardous to health.
Fire Safety
When a hole is made in a compartment wall for plastic ventilation ducting to pass through, the hole must be fire-stopped to restore the walls' fire rating in accordance with Approved Document B of Building Regulations. It is essential that the firestopping product used for this has been specifically designed for this purpose.
As with insulation, we have seen inappropriate material used and have also witnessed fire sleeves for ducting removed from systems altogether to save costs. Clearly, the results of this action could have considerably worst consequences than mouldy walls. With the recent climate of improved fire safety awareness, this has become less of an issue.
Domus Ventilation is a manufacturer of market-leading ventilation systems that save energy and improve indoor air quality.
www.domusventilation.co.uk | vent.info@domusventilation.co.uk