myenergi welcomed electric vehicle drivers from across the UK and Europe to its eco headquarters in Lincolnshire, as they travel to the COP26 UN Climate Change Conference.
Part of the 'Electric Road to COP26', an initiative organised by EVA England, EVA Scotland, GEVA and Local EV Groups (NEXUS), the group is visiting companies operating at the forefront of the electric vehicle revolution to raise awareness of the need for faster transport decarbonisation.
When they arrive at myenergi, drivers will have the opportunity to meet the green team and take a private tour of the company's state-of-the-art facility. They will also be introduced to myenergi's latest range of renewable energy technologies, including the eco-smart zappi EV charger.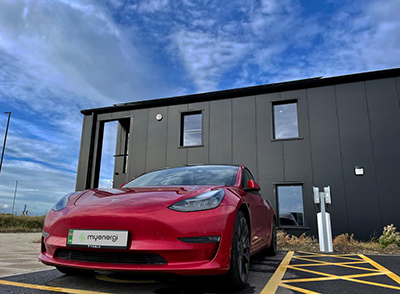 From here, the group will travel up to the Britishvolt EV battery gigafactory site in Northumberland, before arriving in Glasgow for the opening of COP26. During the two-week event, representatives will be calling for all sales of new cars and light duty vans to have a plug by 2030 and be zero emission by 2035.
Jordan Brompton, co-founder and CMO of myenergi, commented: "We're looking forward to hosting drivers taking part in the Electric Road to COP26. As well as putting on lunch, we'll be offering guided tours of our pioneering eco headquarters, which was officially opened earlier this year.
"Initiatives to raise awareness of transport decarbonisation are hugely important. Indeed, transportation accounts for 24% of direct CO2 emissions from fuel combustion globally, of which road vehicles are responsible for nearly 75%. A rapid shift to electrification is essential to combat these statistics, but legislation is critical to accelerating the transition."
Alongside hosting the Electric Road to COP26 visit, members of the myenergi team will also be attending COP26. Kate Tyrrell, events & relationship manager, will be speaking at the COP26 Ferry Event (hosted by National Grid) and promoting eco-smart technologies in the Green Zone throughout the two-week event.
For more information about the Electric Road to COP26, please visit www.evaengland.org.uk. For more information about myenergi, or the company's eco-smart range of renewable energy technologies, visit www.myenergi.com.