Foremost Electronics, the Essex based specialist distributor of electromechanical components and sub-assemblies, is pleased to announcethat they have been appointed UK Distributor for circular connector specialist Neutrik Connectors.
Announcing the availability of two significant new cable and chassis connector series at the same time Alan Vincent, Sales Director of Foremost Electronics,comments. "Neutrik are recognised as world leaders in connectivity for the audio, broadcast and lighting markets and supply major OEMs and systems integrators. And we are very pleased to be offering these two new products immediately." The two new Neutrik connector families meet connectivity requirements where the need for complete data signal integrity is critical.
Neutrik's new etherCON is a ruggedised and lockable RJ45 connector system in an industry standard XLR body. Optimised for professional audio, video and lighting network applications including video walls and digital lighting desks, etherCON may be used where a standard RJ45 connector is too fragile. The connector is available in cable and chassis formats along with a wide range of accessories and tooling.
The new opticalCON fibre optical connector series offers single up to 24 fibre capacity and applications include professional digital mixing desks and broadcast, high bandwidth data systems in areas like video walls, F1 monitoring systems and digital signage.
The opticalCON MTP24, is a pre-assembled, rugged and lightweight cable connector acco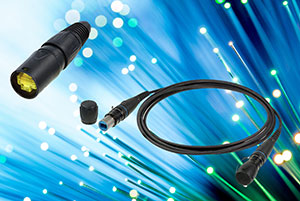 mmodating 24 fibres (multimode PC or single mode APC) based on conventional and proven MTP connectivity protected by a ruggedised and durable all-metal housing. It features a spring-loaded push-pull locking mechanism and excellent cable retention utilizing aramid yarn. An automatically operated sealing cover provides exceptional protection against dirt and dust when unmated.
The cable connector comes pre-assembled and is not available as a single component. The cable is available in different lengths and is packed either in a case, on drum or airspool.
"Recognising the increasing requirements for rugged and reliable data and power connectors for industrial applications Neutrik have chosen Foremost Electronics to be their UK sales channel to the industrial market in the UK." Continues Alan Vincent.
"Foremost has almost 30 years of experience selling connectors and a wide range of electromechanical components to UK electronic systems manufacturers and Neutrik's wide range of connector solutions will be a great fit in our portfolio."
Neutrik is an international corporation with over 40 years of know-how and experience in the manufacture of innovative electrical and electronic interconnection products and systems. The company was founded in 1975 and is the world leader in designing, manufacturing and marketing audio, coaxial, power and circular connectors. Their main objective has always been to be "one step ahead ", and to understand future market needs before they become obvious and to accommodate demands before they occur.
The Neutrik product range includes XLR connectors, plugs, jacks, speaker connectors, patch bays and fiber optic connection systems. Neutrik hold a large number of patents and license agreements demonstrating theirinnovation and creative achievements. Their customers worldwide can rely on having high quality products at an unsurpassed cost/performance ratio when they specify a Neutrik product.
To see the Neutrik product range available from Foremost, please visit www.4most.co.uk call +44 (0)1371 811171 or email sales@4most.co.uk
Foremost serve a wide number of diverse markets including industrial, instrumentation, rail, medical, education and audio/broadcast. Established in 1989, Foremost Electronics Ltd. are very successful
agents and distributors of electro-mechanical components including switches, connectors, cabinets, enclosures and handles, control knobs, thermal fuses and optoelectronics. Foremost are also a supplier of joysticks and controllers for both OEM and stand-alone applications and have specialist online storesElectric Vehicle Connectors and Accessories and www.enclosures4u.com