​
Introducing our new range of Lighting Distribution Units which we have designed and manufactured at our Head Office and manufacturing facility in Stanmore, London.
With a Zintec steel construction and powder coated white RAL9010, these units are available in 4, 6 & 8 ways as standard and fitted with 3/4 pin 6A sockets. Designed to be mounted in several positions to provide flexibility for the installer. We can also offer custom options such as increasing the number of sockets, having different unit colours or dimensions.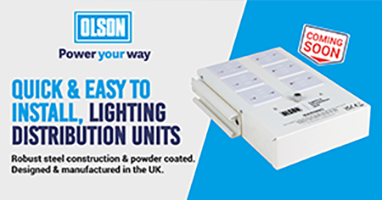 UK Manufactured
The concept of the Lighting Distribution Unit is to provide the customer with a quick and easy installation. Olson can also make custom units whether it is the number of sockets, colour or dimensions. This will provide a unique product for each individual installation.​
Installation
Designed with the installer in mind, this range ensures a quick, easy and safe installation. Light fittings can be added or removed for maintenance, without switching off the load to the lighting distribution unit. This Provides ease of maintenance and future alterations.
Available as standard in 4, 6 and 8 ways. The earth pin would be the first contact hence eliminating any strong current leaps between the live and neutral. The mechanism of the plug and socket attachment is also a safety measure for the installer and a simple push / slide would provide simultaneous electrical connection.
Lighting Distribution Unit Application
Compatible with 3 and 4 pin plugs or pre-wired leads. The 4 pin option offers a permanent connection for emergency lighting.
The LDU is supplied with 1x mounting bracket for ceiling mounting applications using M8 rod and T Nuts. The unit has tapped holes on both sides and on the rear to secure the mounting bracket (screws supplied) offering multiple mounting positions. Please note, the bracket can be removed if not required.
As well as this, direct wall mounting can be achieved by utilising the 4x 8mm fixing holes in the base of the unit. Mounting to cable trunking can be achieved using the 2x 8mm fixing holes on the side of the unit or 1x fixing hole and 1x conduit entry knockout.
Custom Made
With complete control over our entire manufacturing process, we can offer our popular custom-made solutions for our new range of Lighting Distribution Units. What does this mean for you? We can custom make our standard 4, 6 & 8 way units to your specifications. This could be a custom RAL colour to match the interior style within an installation; a bespoke size or shape unit to accommodate space restrictions within an installation; or it could be as simple as a different configuration of sockets.
The standard products within this range are available from stock to ensure a quick delivery time. For more information on our LDU Range or our custom made options, please contact our sales team with your enquiry: sales@olson.co.uk or 020 8905 7273 or visit: https://olsondirect.co.uk/lighting-distribution-units/ ​