NICEIC is encouraging employers and organisations to use National Apprenticeship Week (4th-8thMarch) to promote the benefits of working in the electrical industry.
With a possible skills gap in the future it wants more young people to consider an apprenticeship. NICEIC believe learning a trade is a viable alternative to studying at university – offering the chance to learn, grow and earn throughout the process and boost career prospects as a result.
Darren Staniforth, technical development manager at NICEIC, explains:
"As perceptions of the trade industry are shifting, we've seen an uptake in interest amongst pupils and students for a hands-on career. Gone are the days where young people are expected to study at university to ensure a successful career. Instead, taking on an apprenticeship is now being seen as a far more enticing prospect, with some going on to earn more than had they done a degree. National Apprentice Week is a great time to promote the benefits of our industry and show young people alternative options such as an apprenticeship."
One way that NICEIC supports apprentices into the electrical industry is through its Apprentice of the Year Competition, which celebrates the skills of the brightest electrical apprentices throughout the UK. This year saw more than a thousand apprentices across the UK apply, with 650 applicants successfully completing the first stage.
The competition, run in partnership with The Scolmore Group, is part of the company's drive to recognise the brightest young talents in the trade, which it says is vital to safeguarding the future of the industry.
Last year's winner, was 21-year-old Zach Swift from Helensborough in Scotland. He is now preparing for the final year of his apprenticeship as well as returning to West College Scotland to finish his electrical course.
Zach said: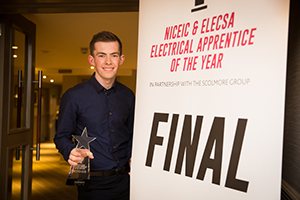 "I think it's important for people my age and younger to understand that there are plenty of routes to take after leaving school or college, and I strongly believe that an apprenticeship is a fantastic option if you're after a dynamic and successful career. The apprenticeship competition was a great boost for my confidence and I am now able to take on more challenging jobs on my own. If you're considering an apprenticeship in the electrical industry, then I would definitely recommend going for it because you'll learn so many skills and your days will always feel varied."
In addition to the competition, NICEIC's Student Membership Scheme provides support to complement the training and personal development of students undertaking relevant technical competency training. Furthermore, the organisation's 'Jobs for the Girls' campaign actively encourages more women to seek a career as an electrician.
Darren concludes: "As we look to the future, our hope is that young people from all backgrounds feel inspired by the range of prospects that come from an apprenticeship, so that more consider a career as an electrician and enjoy the wide range of opportunities that can be had."
For more information on NICEIC apprenticeships and information about the electrical sector please clcik here.