£67.95 zero rated VAT
Prepare yourself for the cold, wet winter ahead with a pair of Scruffs Rapid Safety Boots.
The latest addition to the Scruffs collection, these mid-ankle safety boots come equipped with composite toe and midplate for lightweight flexibility and protection from sole penetration – whatever the weather.
A reliable pair of boots for any time of year, Rapid Safety Boots incorporate Scruffs Dri4Work® technology, making them fully waterproof come rain or shine.
These boots take the stress of site use without compromise, with Poron® socks plus a padded tongue and collar providing extra underfoot cushioning for maximum comfort.
Rapid Safety Boots have a high spec safety rating, providing protection against heat, slips and fuel oil. Keep on the right side of your work mates too with Micro-Fresh®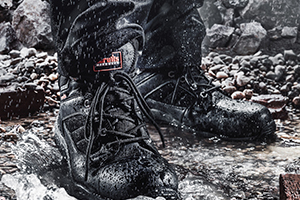 technology, which prevents the build up of bacteria to reduce unwanted odours.
With underfoot shock absorption as standard, the Rapid Safety Boot minimises stress on the feet and ankles, so that you can get on with the job at hand without distraction.
So if the weather turns, the work doesn't have to stop – Scruffs has got you covered with the waterproof Rapid Safety Boot.
For more information about Scruffs, visit https://www.scruffs.com/ call 0115 938 9000, or email sales@birchwoodpricetools.com for more information on the range of products.