REBBAL (Replacement Electrical Back Box Attachment Lug).
Repair socket back boxes quickly and easily without wall damage. REBBAL gives the movement and adjustment of the original sliding lug with added strength.
As an electrician and business owner, I grew frustrated with the process of arriving on site for second fix and finding back box lugs damaged or missing. In most cases, this meant the back box had to be replaced. As any electrician will know, the process of changing the back box and making good – sometimes involving other trades – will turn a five-minute job into a few hours, at least.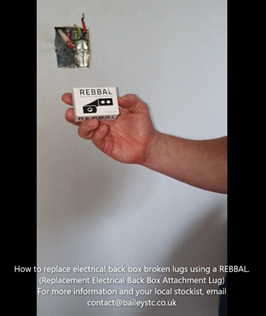 The additional time was not only frustrating, but meant an added cost. It was at this stage that we decided to do something about the issue. I believed there must be a way to repair or replace the faulty back box without damaging the wall, a solution that could save electricians time and money. We wanted something that can be fitted quickly and easily, and that could be easily carried around alongside spare screws. Importantly, it also needed to be stronger than the original and built to last.
Strength is important because of the development of 3.5mm fixing screws. These were previously manufactured from electroplated brass, meaning if you over-tightened you would likely strip the screw thread, but not the lug. Today, modern 3.5mm fixing screws are often made from steel, moving the weak point from the screw to the lug.
That is why we designed the REBBAL to be made of 2mm thick metal. This provides more internal threads and reduces loading, therefore cutting down the chance of stripping threads and other damage. It has been designed for use on metal back boxes from 25mm deep upwards, though you may need longer 3.5mm screws if set back deep within the plaster.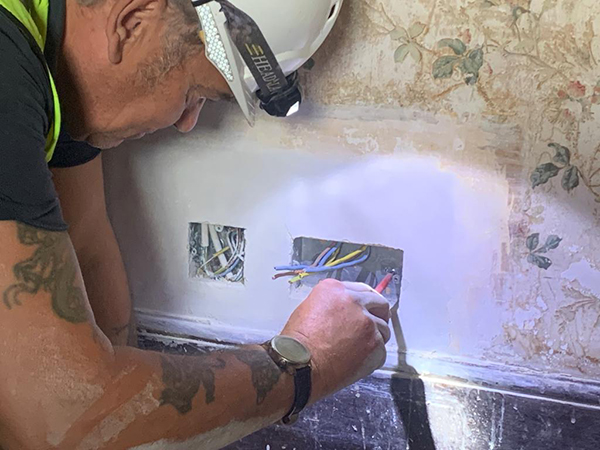 We designed REBBAL to solve a frustration felt by electricians all over the UK. After you have used it once, you will always carry a REBBAL in your toolbox with your spare 3.5mm screws. It is a quick and easy solution to a problem that would otherwise take hours of labour to repair. Best of all, it is a cost saver. Compare the cost of REBBAL against labour time to change a back box and the hassle it causes.
Each white box contains two REBBAL's plus various fixing screws.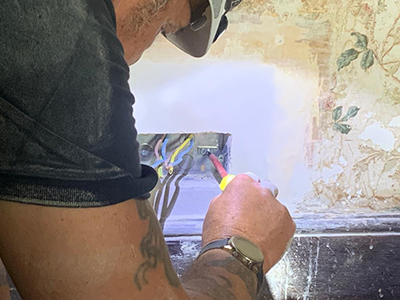 The smaller REBBAL lug can be used on any depth of back box from 25mm up wards, just requiring the correct length 3.5mm screw.
The larger REBBAL lug can be used on boxes 35mm and 47mm deep, and has been designed when side entry is used. The design still allows for the lug to have movement and be adjustable, even if a brass bush or lock ring was used. The smaller REBBAL may not fit flush to the side if a lock ring or brass bush is used on the back box.
Watch the REBBAL product demonstration video on our website www.baileystc.co.uk
For more information about REBBAL, contact sales@baileystc.co.uk.
Currently on sale at:
Edmundson Electrical Wholesalers, Aylesbury.
Grant & Stone Electrical Wholesalers, UK.