Leading Independent Connections Provider, Rock Power Connections, has finalised the installation of the electrical supply to Glenmore Business Park, a new development of 14 industrial warehouse units based in Langford Docks, Kidlington.
The Worcester based firm were appointed following a successful tender process, which resulted in Rock Power Connections providing a full design and installation service for the new development.
The team worked directly with the Distribution Network Operator [DNO] in order to obtain a point of connection, and, from here, installed a 315VA package substation with LV network and cut outs to provide over 20kVA of power to each business unit.
Kev Sankar, Commercial Director for Rock Power Connections, said: "The Rock Power Connections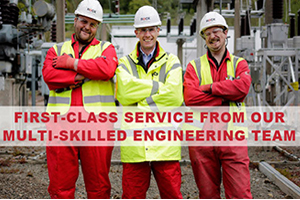 team boasts extensive experience in the complete design and installation of a new electrical supply to a vast range of development sites, ranging from large commercial through to residential properties. We were delighted to have won the tender for the Glenmore Business Park site, where the team successfully energised the power supply in advance of the required date, helping to speed up the construction project. Overall, it was a very straightforward job with a trouble-free installation, thanks to great communication with the developer, IKON."
Daniel Rubin, Managing Director, of Glenmore Group, "Rock Power Connections were great to work with, delivering an energised power supply to all 14 business units. The firm's efficient and professional approach enabled us to proceed with the site ahead of schedule, ensuring the development was finished in advance of business letting dates."
Founded in 2012, Rock Power Connections has quickly become one of the UK's leading Independent Connections Providers, specialising in the design and installation of new and upgraded electricity connections to business, industrial and commercial properties.
For more details about Rock Power Connections please click here