As the electric vehicle revolution gathers pace, SELECT, the trade body for the electrotechnical industry in Scotland, is leading by example by ramping up the installation of EV charging points at its headquarters.
The campaigning organisation has added another four fast charge spaces at the Walled Garden on the Bush Estate, bringing the total number to six. It also plans more in the near future, including rapid points which can charge an electric vehicle in less than an hour.
It means that the growing number of electrical contractors and suppliers who visit the SELECT office in their EV or hybrid vehicles will have the opportunity to charge them on site while they conduct their business.
Dave Forrester, Head of Technical Services of SELECT, said: "New registrations of plug-in cars in the UK have increased from 3,500 in 2013 to more than 182,000 by the end of October 2018. It is a remarkable growth trajectory in a market which is only going to increase.
"As ever, SELECT aims to stay ahead of the curve by enabling electric vehicle users to quickly and efficiently recharge, helping the drive towards zero emission motoring which will be of benefit across society."
SELECT has also completed a number of training courses in Electrical Vehicle Charging Equipment Installation, designed to keep members at the cutting edge of next generation technology.
The new City & Guilds course was delivered in partnership with West College Scotland in Paisley and Moray Robertson, who runs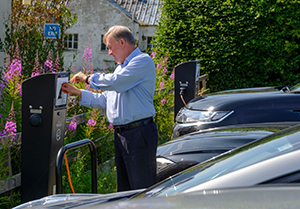 Moray Robertson Electrical Services of Stirling, who attended one of the new courses, said: "The course was very informative about the regulations and earthing arrangements that are required for installations to be compliant."
The new course was offered through SELECT's dedicated Training Department which was launched in September to promote and deliver training across the electrotechnical sector in Scotland.
SELECT's 1250 member companies account for around 90% of all electrical installation work carried out in Scotland. They have a collective turnover of around £1 billion and provide employment for 15,000 people.
For more information please contact Alan Wilson, Acting Managing Director at SELECT, the Electrical Contractors' Association of Scotland, The Walled Garden, Bush Estate, Midlothian, EH26 0SB. T: 0131 445 5577. F: 0131 445 5548. E:admin@select.org.uk. W: www.select.org.uk
Twitter: http://twitter.com/updates_select
YouTube: https://www.youtube.com/channel/UCWJVjt14CvIig8bIKwidVug