Work Gloves for Healthy Hands that deliver Precision and Protection
Snickers Workwear now has an extensive collection of Work Glove styles in a wide range of sizes, developed for different workplaces and tasks – designed for dexterity, durability, comfort and precision.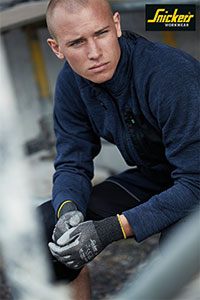 With advanced features and material combinations, there's something to suit a wide variety of trades, and workplaces, weather conditions and hazardous environments.
Added to which the advanced ergonomic designs ensure strong, secure grips while sophisticated patterns, vents and ribs combined with durable materials deliver cut-protection, ventilation, waterproofing and insulation.
What's more, for specialist use where health and safety standards are key requirements, the Gloves are EN certified for performance and protection in hazardous and foul weather environments.
Getting more information on the Snickers Workwear Gloves Range is easy. You can call the Helpline on 01484 854788; check out https://www.snickersworkwear.co.uk/products/109 and download a digital catalogue or email sales@hultaforsgroup.co.uk