Hi-tech stretch fabrics and ergonomic designs ensure close quarter mobility at work. With a range of new AllroundWork stretch trousers available throughout the UK, there's plenty of flexibility for every professional craftsman and woman to stretch their performance on site comfortably.
The new stretchy work trousers for men have a loose fit for a classic Snickers Workwear look and feel, with stretch Cordura for increased durability as well as improved ventilation and close quarter mobility.
Loose-fit Stretch Trousers which are design specially for women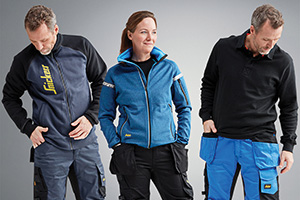 What's more, the new slim-fit work trousers for women are shaped to fit the female anatomy.
The ergonomic 'women's fit' includes wider hips and a narrower waist for a street-wise, fashionable look with optimal comfort and freedom of movement built-in.
So check out these newest designs – the optimal choice for craftsmen and women who need to get their jobs done comfortably on site.
Getting information on the Snickers' new stretch work trousers is easy.
You can call the Snickers Helpline on 01484 854788, check out the website and download a digital catalogue at www.snickersworkwear.co.uk or email info@snickersworkwear.co.uk
About Snickers Workwear
Snickers Workwear has changed a lot since it was a small Swedish company that revolutionized work clothes in the 1970s. But today, as well as back then, we focus on making working life better, smarter and safer. That's our reason for being.
Everything we do is based on our end-users. Our role is to find solutions that simplify and improve for them and to inspire them and our whole industry to become better, more productive and user-focused.
We strive to push the limits everyday and constantly try to redefine the concept of modern workwear. But, in the end Snickers Workwear is not really about what we do, but what we enable our users to do.