Available from specialist distributor Switchtec, Sirena's TWS range of light towers incorporates three modules to the stackable tower Automax range. The TWS range provides visual and/or audible indication of the status of a wide variety of process machines, vehicles, lifts and other factory and industrial equipments. Automax is Sirena's most complete range of modular and multifunctional stacklights purpose engineered for the automation industry.
The TWS S is a multifunctional SuperBright LED module offering no less than four effects, namely steady, flashing, strobe and a new random effect. Exhibiting versatility, six different dome colours are available: blue, amber, red, green, yellow and clear. The TWS RGA is a multicolour, SuperBright LED module with three levels (colours) of alarm from one module: green, amber and red. The third module, the TWS A+ is an electronic sounder that has 16 different tones, a maximum sound level of 93dB and a high degree of protection for a sounder of CE/IP65 GOST UL/NEMA 3R.
TWS S and TWS RGA offer an excellent degree of protection to CE/IP66 GOST UL/NEMA 4X and operate from 12/24V AC/DC supplies. The TWS A+ is similarly empowered, but is also able to operate from 90/240V AC supplies. All three modules are available in base unit colours of grey or black.
The basic principal of any light tower is to provide a quick visual indication, warning or notification. Most light towers are pre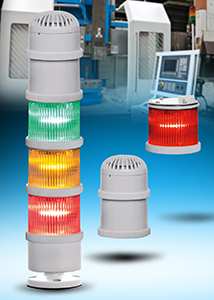 assembled and have to be ordered in the required colour sequence, voltage and illumination type and are manufactured as a complete Item.
Sirena's TWS family provides flexibility to customers, stockists and distributors by the use of a modular system. The customer simply orders the colours they need, output type (flashing or continuous), the required bulb voltage, then by use of Sirena's simple assembly mechanism, stack the colour modules in the order required.
This expanded TWS range from Sirena builds on the success of the original TWS that was known for its ease of assembly and flexibility. However its 70mm diameter was often too large for customer's requirements. Smaller diameter lights towers were available from other manufacturers, but lacked the TWS's stackable flexibility. So Sirena developed the Mini, Baby, Micro and Nano TWS to address this demand. That's a total of five ranges with the following diameters: 18, 25, 36, 55 and 70mm.
Find out more about Switchtec here