Scouring government data and looking into the nation's opinions and experiences, new research from Tiger Sheds can reveal how many of us have had our sheds broken into, and what precautions (if any) we are taking to protect our garden buildings, tools and garden furniture from thieves.
After analysing four years of data[1] (2014 – 2017) from police forces across the nation, Tiger Sheds can reveal that, on average, over 22,500[2] instances of garden and shed burglary are reported each year.
The locations that reported the most shed and garden burglaries over the four year period were:
Lancashire Constabulary – 11,226

Greater Manchester Police – 10,408

Humberside Police – 9,022

West Yorkshire Police – 8,604

Cleveland Police – 6,827
Of the police forces that were able to supply data for 2018 as well, Humberside had the most reports of theft (1,711), beating Greater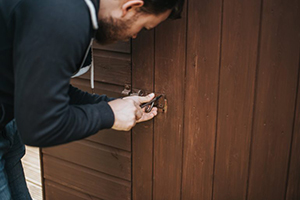 Manchester (1,538)[3] and Essex (1,525). In 2017 however, Essex came out on top, ahead of Greater Manchester (2,351) and Lancashire (2,292).
The good news is that the volume of garden and shed theft being reported to police is generally decreasing. 2018 saw a fall in the total number of burglaries in almost every location, especially Nottinghamshire, where instances of garden and shed burglary decreased by more than half (1,794 in reports in 2017 vs only 781 reports last year[4]).
Perhaps unsurprisingly, bicycles top the lists of items taken from gardens and garden buildings, while electric appliances like power tools and lawnmowers also proved susceptible to thieves. Among the more surprising objects stolen were hairdressing equipment (Hertfordshire), ornaments (Humberside), a painting (Lancashire), and even rodents (Lincolnshire) and reptiles (Merseyside)!
Speaking about her terrifying experience with shed theft, Sam (24) from York says, "The night before, there had been a fire in our house. Thankfully, no one was hurt. The fire had started from the shed and spread to the house, but the firefighters were able to get there before it spread too far.
"The next day, we went out for a meal, mostly just to get away from the smell of smoke! But when we came back, all the scrap metal from what was left of our bikes, and anything else that had been in the shed, was all gone. It's terrifying to think that people were willing to put me and my family's lives in danger, just to get their hands on whatever they could find in a garden shed."
Tiger Sheds also polled the nation[5] to find out what precautions, if any, we take to secure the items within our garden buildings from theft. Reassuringly, four in five (83%) people take steps to keep their sheds and summer houses secured but this takes form in different ways.
Padlocks are the most common security precaution, used by two-thirds (68%), while almost half make use of outdoor sensory lighting (46%) to deter would-be criminals. Stronger measures like alarms (16%) and anti-tamper screws (13%) are less common and, surprisingly, only 15% think to remove valuables from their sheds/outbuildings overnight.
Commenting on the findings, Jack Sutcliffe from Tiger Sheds said:
"A lot of us have the 'out of sight, out of mind' mentality for our sheds and garden buildings, and don't always spare much thought for keeping them safe but, as the research shows, this lack of security can prove irresistible for burglars. This needn't be the case as there are plenty of ways to secure our gardens and outdoor buildings that don't require too much effort. A strong and thick padlock is of course a great starting point, and anti-tamper screws or a security bar can go a long way. If your shed is only used for storage, blocking out the windows is also helpful as thieves are more likely to break in if they can see your valuables, while using opaque stick-on security sheets also has the benefit of making windows more difficult to break and preventing glass shattering."
Experts at Tiger Sheds offer their top tips on how you can protect your garden buildings from theft please click here