Bromsgrove based suppliers of trade-quality tools, Tools of the Trade, recommended South and City College's Bordesley Green campus as the backdrop for the publicity shots of their latest range of trowels.
Tools of the Trade have maintained a relationship with the college for four years, supplying a variety of tools for students and apprentices to use whilst studying.
When the supplier commissioned photography company, Green Imaging Ltd, to produce the publicity shots for their latest range, South & City College were recommended as a venue for their in-house expertise to ensure the shots were as authentic as possible.
Simon Winder, Head of School for Plumbing, Gas & Air Conditioning at South & City College said: "We were an ideal choice as a venue for the photography, as not only do we have great facilities for the backdrop, but we also offered consultancy to ensure the tools were used in the correct way and as realistically as possible. The college is at the forefront of the latest tool technology and we get to see and use tools before they even appear on the market. This is of great benefit to our students, as they get to be more site-ready, putting them ahead in the job market."
Dave Green, MD of Green Imaging Ltdadded: "I had been asked to contact S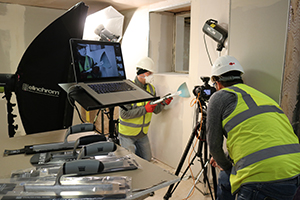 imon Winder to get this project set up and the college have been really helpful. It's been a really pleasurable experience, and nothing has been too much trouble to ensure we get the exact shots needed to meet the brief."
Faith Guest, MD of Tools of the Tradedescribes the students of South & City College as "tomorrow's generation of trades people." She added: "Tools of the Trade have had a long-standing relationship with South & City College. We have chosen to work with them as their team are enthusiastic, knowledgeable and focused on delivering exceptional training to their students. Tools of the Trade Ltd value the students' views and opinions. The venue is exceptional, and the staff are a delight to work with. We thank you for allowing us access to your first-rate training environment and look forward to a continued and successful relationship moving forward."
Considering taking on an Apprenticeship at South and City College Birmingham? For more information about the range of courses available, visit www.sccb.ac.uk
Or for more ifnormation about Tools of the Trade please click here