All too often, cable management is specified towards the end of a project, with little thought given to the impact it can have on a building environment as a whole. However, if carefully considered and installed properly, it could make all the difference and garner repeat business. Emma Segelov, head of marketing at MK Electric, gives her top tips for specifying cable management products.
Cable management products are often essential in environments such as hospitals, schools, and offices. However, each project will require a different approach in the specification of these products.
For example, in light of the constantly evolving modern workplace, operating with more technology than ever, it can be difficult to select the correct cable management products.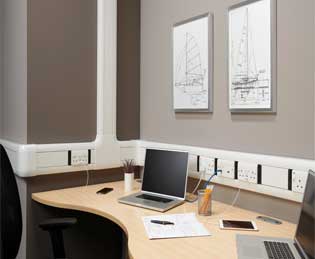 All parameters should be taken into consideration, such as bend radii, as they will paint a much clearer picture of what solutions will be required – products such as multi-compartment wall trunking or mini-trunking and conduits for local distribution will likely prove the ideal solution.
With businesses aiming to make as much profit as possible, this can likely lead to the specification of the cheapest products, bringing down the cost of a job. However, this can negatively affect all parties, as cheaper solutions will often be of a lower quality – making them harder to install and less hard-wearing.
Therefore, an electrician needs to look beyond the initial purchase price, and recommend solutions that will stand the test of time and provide long-term.
MK Electric's Prestige 3D, for example, contains pre-drilled trunking bases, eliminating the need to measure and drill fixing holes, and open top/bottom back boxes which allow unhindered, tool-free cable entry through divider knockouts. Trunking hinge lids, meanwhile, enable cables to be supported by the trunking cover. The product also supports cat 5e, 6, 6a and 7 compliance, it includes numerous well-engineered design features including flat angle and tee curved divider walls that allow data cables to lay in with no loss of capacity and a patented Data Sweep which maintains cable capacity while eliminating the need for bulky corner covers.
Innovative and easy to install, the Prestige 3D family comes with features such as pre-drilled trunking bases and open top/bottom back boxes, whilst offering hinged lids to enable cable support during installation.
For more information please visit www.mkelectric.co.uk