CEF, the UK's leading electrical wholesaler, has launched a new, priced trade catalogue and improved website to provide customers with a more transparent, consistent and convenient shopping experience.
The new trade catalogue, which features everyday value prices is a first for the industry and brings much needed pricing consistency and transparency to the electrical wholesale market.
Featuring more than 26,000 electrical products including cable and cable management, heating and ventilation plus lighting, lamps, wiring accessories, switchgear, industrial controls, and not forgetting hand tools, site equipment and test instruments, the CEF catalogue is certain to become an essential part of the electrician's toolkit.
All products are available for click and collect or next day delivery wherever customers need them, and with thousands more available at cef.co.uk, installers are sure to be able to find what they need, when they need it.
"Traditionally, pricing in the electrical wholesale industry is complicated, time consuming and inconsistent" stated Andrew Moseley, CEF's Commercial Director.
"Our new priced trade catalogue is a direct response to customer feedback and part of a wider commitment from CEF to bring pricing transparency and consistency and improve the level of service we offer to our customers."
The catalogue also highlights CEF's new lowest priced everyday Trade Essentials range and features Connected Living products from the company's recently launched Get Smart, Get Connected campaign.
To support the launch of the new catalogue, and create a multi-channe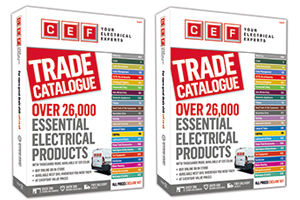 l customer experience, CEF have also enhanced their website to include the same transparent catalogue pricing and improved the search functionality and guest checkout, allowing customers to select and purchase the products they need quickly and easily. Customers can browse more than 32,000 products online and can check stock availability at their nearest store before they 'click and collect' or order for next day delivery at a location convenient to them.
"Our customers want to buy the products they need as conveniently and easily as possible," added Moseley.
"With the new priced catalogue and website, CEF customers not only benefit from knowing exactly what the price is when they shop with CEF, they also have more choice over how and where they shop – be it online, in store, by phone or through our new catalogue. Anybody looking to buy electrical products can get them at their convenience and will have the same consistent experience wherever and whenever they shop at CEF."
The new CEF trade catalogue is available to pick up from any of CEF's 391 stores nationwide, or you can request a copy at www.cef.co.uk/request