When it comes to underfloor heating systems, there are two types, water and electric. Both warm an area from the floor up and unlike central heating warm the people and objects in a room rather than just heating the air. Central heating is still used in millions of UK homes and causes a massive amount of energy wastage.
Underfloor heating offers much greater freedom from a design perspective as it saves around 15% more space and eliminates the problem of visible pipes and radiators. But which one wins the race, water or electric?
Electric underfloor heating costs far more to run than warm water UFH, in fact a system like Wunda Group plc's over floor heating system Wundatherm could save you 65% when compared. Wundatherm is a rapid response wet system that doesn't require digging up floors and is perfect for both new and existing properties without the need for screed.
So what do homeowners need to know about electric and water UFH?
An electric system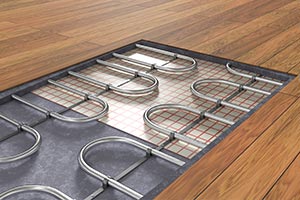 Electric UFH is readily available as either a heated mat or as a cable system that converts electric energy into radiant heat. The mats use thin pre-attached electric heating wires that are rolled out under the floor finish and the heating cables can be installed directly on or within the subfloor.
A water system
Wet systems, which are also known as hydronic, involve pumping the heated water through the underfloor heating pipes/circuits which have been laid on top of or in the subfloor, underneath the floor finish.
What are the financial savings?
Wet UFH uses much less energy than central heating as it is designed to run at a lower temperature whilst still providing the same level of heat. However, costs and efficiency will differ depending on construction, insulation, energy tariffs and how the heating is being controlled.
For example, a room size of 40m² would cost around £900 per annum to heat using electric UFH, whereas a wet UFH system would only cost about £180 per year.
Electric UFH
Running an electric underfloor heating system will cost more than a water system due to current energy tariffs.
Water UFH
In contrast, hydronic heating systems deliver reduced long term running costs when compared with electric systems and homeowners can benefit from even greater savings by using more efficient heating sources and controlling it via a thermostat.
How long does it take to install?
Installing underfloor heating is often simpler than you may think, but it is recommended that systems are installed by a qualified installer who has worked with UFH before.
Electric system installations
Electric systems are often very quick to fit with some products claiming they can be installed in under 30 minutes.
Water system installations
Water systems do often take longer to install as time is needed to test the flow and pressure of the water.
What are the costs of installation?
When choosing whether a water or electric system is most beneficial, it's worth doing some research first. Like what is the price difference between a plumber installing a wet system and an electrician wiring the electrical system to the mains? Homeowners can expect to pay around £200 plus per day for a competent tradesperson to install a heating system, but in the case of Wundatherm, up to 150 sq. metres takes two people just two days to install and only requires a plumber when it comes to commissioning the system on completion.
Wunda prides itself on first class quality and customer service, providing free technical support six days a week, and provides the specialist service of detailed layout plans for all bespoke systems free of charge to trade customers. With these layout plans to hand, tradesmen can have complete confidence in laying the boards and installing the Wundatherm system.
For further information on the Wundatherm underfloor heating system or a free estimate, call 0800 083 2677, email plans@wundagroup.com or visit the website www.wundagroup.com