Protecting critical power properly with a UPS system, means you need a system with a high level of availability. Availability is the probability that a system is operational as and when required – in other words, providing power when the main power source is interrupted or even fails. In addition, for mostorganisations, efficiency is also high on the UPS tick list in order to keep costs under control.
The most modern, scalable, and flexible modular type three-phase UPS systems that combine class-leading availability and efficiency are perfect for use in small, medium and large datacenters. However, not every application requires a modular UPS and for these organisations, a stand-alone UPS can be a cost-effective solution.
These days, stand-alone UPS systems are readily available, but not every stand-alone UPS offers the same benefits and quality of power protection. CENTIEL's PremiumTowerTM, for example, uses the same innovative technology incorporated in CENTIEL's 4th generation modular three-phase UPS system and has an unbeatable on-line operating efficiency of 96.6% which minimizes running costs. PremiumTowerTM is currently available in power ratings of 10kW – 120kW, its built-in battery reduces the footprint to ensure it can fit into even the smallest comms room. Aesthetically matchingUPS cabinets can also be added if long autonomy times are required.
So, when it comes to selecting a stand-alone UPS how can organizationsensure they have the best power protection for their business-critical applications?
It is not just the quality of the UPS system itself which will influence levels of reliability and availability. A system needs to be easily and properly maintained to remain both efficient and reliable and therefore available.
The most modern systems will not continue to operate optim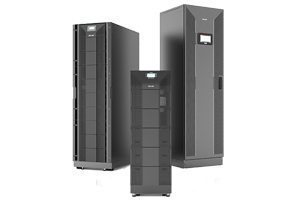 ally without regular maintenance, repair, and support. Key questions to ask when purchasing a UPS are therefore: who will be responsible for maintenance and support? What are the details of the service level agreement (SLA), including guaranteed response time? What is the schedule of preventative maintenancevisits? Is there a 24-hour support hotline? It is also necessary to find out if labour, travelling, and expenses are included and the cost of replacement parts.
Who is the warranty held by? is also an important question. Smaller 'vendor neutral' UPS providers source technical solutions from multiplemanufacturers. They may have many years' technical experience and, due to low overheads, can offer a price competitive service, however, customers can end up paying in other ways. Think of it like buying a car from a local dealer. The salesman got you the cheapest deal and it seemed to match your specifications and it's fine until there is a problem. Then, it turns out that the local supplier isn't responsible for the warranty and head office don't want to know as they didn't sell you the vehicle.
The whole purpose of the UPS solution is to protect the critical load and if there is no valid warranty or proper maintenance and support contract, the whole power source could be compromised however good or cost-effective the initial technological solution.
As well as selecting a suitable maintenance and support contract and a comprehensive warranty, opting for the best technology itself also requires due diligence. Cost reduction has become a big driver and criteria for winning contracts, but if cost-cutting compromises the availability of the UPS then again, the critical load will not be properly protected.
Sometime ago, we were called to advise a healthcare facility which had imported a large number of stand-alone UPS units from another manufacturer. A number of these UPS units were simply not working, there had been problems in commissioning the units from day one, the local supplier was having problems communicating with the manufacturer, etc etc… . This is an extreme example, but with a significant proportion of the UPS units needing to protect the load in individual operating theatres, people's lives could potentially be put at risk. Fortunately, the healthcare provider was quick to recognise the issue and address the problem. This is a simple real-life example where up-front cost-cutting could have directly compromised theavailability of the UPS system and meant the critical loads were not properly protected.
The good news is that UPS technology has improved significantly over the past few years. Worldwide sales of transformerless UPS technology has matured and overtaken transformer UPS. Modular UPS offers the newest technology in the UPS evolution and offers real CAPEX and OPEX savings. The challenge for any manager is to balance the cost of a UPS system and its resilience. Generally, with UPS solutions, as in life, you get what you pay for, so it is important to study the technical submittals evaluation documentation carefully.
At CENTIEL our design team have been working with data centres for many years at the forefront of technological development. We are the trusted advisors to some of the world's leading institutions in this field. For this reason, we have developed both standalone and modular UPS systems which offer industry-leading availability, with low total cost of ownership (TCO) through Maximum Efficiency Management (MEM) and low losses of energy.
For more information about this and our full range of UPS solutions please see: www.centiel.co.uk