Centrica Business Solutions has reached more than 1,000 candidates to successfully pass the 18th Edition qualification, with the latest number of passes standing at 1,265.
Since the new BS 7671 wiring regulations were launched last July (2018), their dedicated tutors have travelled the length and breadth of the country, delivering 18th edition courses to engineers nationwide.
During this time, more than 150 18thedition courses have been delivered, consisting of a mix of the full 3-day course and the 1-day update course at Centrica's training centres in Rotherham, Salford, Birmingham, Sevenoaks, Newbury and Glasgow. Many of the courses have also been delivered on-site, suiting individual operational requirements.
This fantastic number of achievements gives Centrica Business Solutions an outstanding pass rate of more than 92% for the City & Guilds course.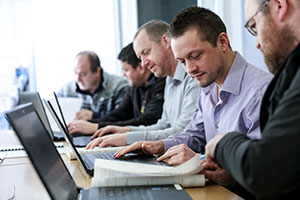 Ray Garrow, Senior Electrical Tutor said: "It's fantastic that we've been able to support over 1,000 candidates in achieving their 18th edition qualification. Delegates successfully completing a course is one of the most rewarding aspects of being a tutor and it's great to help them to use and understand the requirements of the latest regulations."
The 18th Edition Wiring Regulations came into full force on 1st January 2019 meaning all electrical installations that are designed from now on must comply with BS7671:2018. To maintain Registered Electrician Status, engineers are required to have the new qualification by 1st July 2019.
The City & Guilds 2382-18 courses run regularly at Centrica's UK training venues. For more information on the two courses on offer and to book your place, visit:
If you have a large team of engineers who require 18thedition training and would prefer onsite training, you can call Centrica Business Solutions on 0800 980 8150.