Switchtec expands its STX range of Beacons to include Dual "Flashing or Continuous" LED version.
Addressing the need for a compact, competitively priced, low profile LED beacon, Switchtec has developed from the "Ground Up" the STXLED beacons to meet the demands of control panel manufacturers and those in the field of factory automation.
Switchtec has expanded its popular STX range of Xenon beacons to include the STXLED range, a Dual output Flashing or Continuous LED beacon. Addressing customer demand for a Continuous output was not possible with Xenon technology. Utilising LED Technology, Switchtec has been able to develop the STXLED range which offers a Dual Flashing or Continuous output LED Beacon by the selection of 2 of the 3 connection cables.
The STXLED beacons have 3 x 550mm connection cables coloured for easy recognition. Connecting 2 cables produces a continuous output, and connection of the 3rdproduces a flashing output.
The beacons can be surface mounted using the fixing plate supplied or panel mounted using the two mounting studs and nuts provided. STX Beacons have been designed to produce an optimum level of output but with a 76mm diameter and with a height of 49mm panel mounted or 65mm for surface mounted. They are available in two voltage versions; 24DA which will operate from 10V to 28V AC or DC and 230A which will operate from 115V to 240VAC.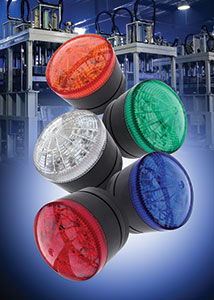 Colours available are Red, Green, Amber, Blue and Clear/White and are fitted with 3 ultra-bright coloured LED's that delivers a bright eye catching 6 Lux output. The flashing output flash rate is 1 Hz (Once per second)
Dust tight and able to stand jets of waters, the STX beacons have an ingress protection of IP65. STX beacons can be safely installed inside or outside as they are fully weatherproof units.
The STX beacons will be of great interest to those in the fields of control automation, factory automation, panel building and those operating in applications such as security and hazard/warning applications.
Xenon beacons still remain a popular go to product for manufacturers looking for a competitively priced flashing beacon, but LED Technology offers the additional benefits of Dual Flashing or Continuous Light output, longer operational life, lower power consumption and a greater resistance to vibration.
Both the LED and Xenon versions of the STX beacons are available Ex-Stock from Switchtec.