NICEIC and ELECSA's 2019 Electrical Apprentice of the Year Competition is now open for entries.
The competition, run in partnership with The Scolmore Group, measures the technical skills of electrical students across the UK. It consists of three different stages and regularly attracts more than 500 entrants.
Technical Development Manager for NICEIC and ELECSA, Darren Staniforth said:
"Over the past three years, we have seen the standard of applicants improve each time so we are looking forward again to welcoming a new batch of contestants.
"As the most recognised names in the industry, NICEIC and ELECSA have a responsibility to work with, encourage and promote apprenticeships and careers in the electrical industry to the next generation."
The competition is not only an opportunity for students to prove their knowledge and abilities but also a chance to win some fantastic prizes – all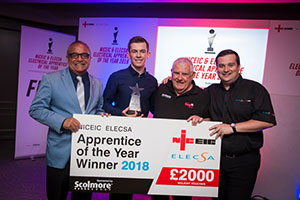 generously supplied by competition partner, Scolmore Group. Eight finalists will each receive a brand new iPad, with a £2,000 holiday voucher being awarded to the overall winner. There will also be two runner up prizes of a £750 holiday voucher and a £250 holiday voucher.
Each finalist will also receive a Scolmore Van Pack, Trophy and NICEIC and ELECSA Goody Bag.
Every college that enters 20 or more students into the competition will qualify for a College Pack from Scolmore, featuring: 25 Double Sockets, 25 Switches, 25 6″ Pendants and 25 Batten Holders.
The College that produces the eventual winner will also receive £1,000 worth of Scolmore products.
Marie Parry, Group Marketing Director for Scolmore Group said:
"The competition continues to gather momentum and gain recognition throughout the industry. Students, lecturers, trainers and employers all recognise the opportunity and value it brings.
"We understand the importance of supporting the next generation of electricians. We have a number of directors currently working in the business that started out as electrical apprentices and through hard work and determination; they have worked their way up to the boardroom.
"This competition recognises the important role apprentices play within our industry and we look forward to working with them once again."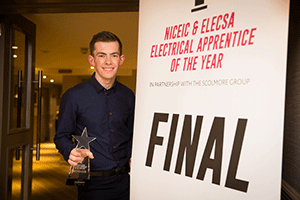 Last year saw 650 candidates whittled down to eight finalists before 21-year-old Zach Swift from North Star Electric, Glasgow, was chosen as the 2018 Apprentice of the Year.
Zach said:
"When my name was called out as the Apprentice of the Year I don't think I've ever been so surprised. I never thought I would even pass the first stage, let alone win the overall title. The quality of work that the rest of the guys were producing was fantastic so when I heard my name called out, I was staggered.
"The competition is a fantastic opportunity to demonstrate your ability.
It doesn't cost anything to apply and I would say to anyone who is thinking about entering to just go for it. "
The competition consists of three stages and registration for Stage One is open now.
Students can enter the competition and complete the first stage by visiting

www.niceic.com/apprentice

.