The electrical industry has always been a highly-charged marketplace. Numerous companies compete for the same projects, the market is subject to constant regulatory changes, and a shortage of skilled workers often results in companies having to carry out more work with less staff. All these places additional strain on internal resources which, in turn, has a negative impact on impact customer satisfaction due to late arrivals, cancellations, poor "first time" fix rates and a host of other issues. In order to overcome these issues, more and more electrical companies are turning to technology for assistance. Vehicle and fleet tracking is one of the most readily available technologies that businesses can employ to lower internal costs and improve working efficiency. Here are three main ways that vehicle tracking can improve your organisational efficiency:
Lower overhead costs
Using fleet tracking hardware & software to monitor activity and performance online is a proven mechanism for significantly reducing fuel overheads and insurance costs, as well as improving vehicle and asset utilisation and driver productivity. All of which has a direct impact on the bottom line. Back-office teams can easily locate and track vehicles in real time, giving them the visibility required to optimise driver itineraries, avoid traffic congestion, allocate drops and task more effectively in order to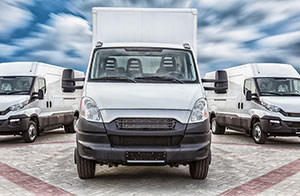 reduce journey durations, time spent idling, fuel consumption and CO2 emissions.
Real time, in-cab coaching systems that alert drivers to harsh or intemperate driving behaviour also have an incremental effect on running costs. Extensive research has demonstrated that the addition of an in-cab coaching device can reduce fuel consumption by an additional 5-6%.
Develop customer service
Telematics solutions provide accurate fleet data that can be leveraged to improve customer service. Fleet data enables companies to provide accurate arrival times and live updates to help keep customers happy! Apart from the obvious benefits, this can also boost your brand's reputation and improve customer retention.
Improve business productivity
Fleet managers can pinpoint the location of any vehicle at any time and can even track how long is spent at each stop-off point. This level of precision allows fleet managers and dispatchers to prioritize work based on driver proximity, skill-level and kit on-board, whilst keeping an eye on the time spent at one job can help maximize productivity and working efficiency.
These data-led insights offer the ideal solution to maximise output, whilst maintaining top-level customer service, especially in a the highly competitive industry