Thanks to some expert industry knowledge, Artline believes it has created a product range to make an appropriately bold mark with thousands of professionals across a variety of trades.
Artline's new EKPR series has been designed with all manner of tradespeople in mind, including builders, plumbers, gardeners, electricians and even odd-job men and women.
Individual markers in the collection are crafted to work on tough surfaces including fencing, piping, metalwork, stone and concrete. Each of the seven markers in the EKPR series also boast a clever, colour-coded barrel to make selection from the tool box simple.
Markers in the range include:
General Purpose Marker – No job is too big or too small for the General Purpose Marker. Working on most surfaces and featuring instantly drying ink, this marker works whenever and wherever it's needed.
Exterior Marker – Ideal for marking up fencing, plastic piping or metalwork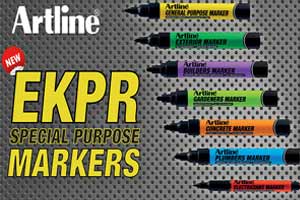 , the Exterior Marker is long-lasting in the most testing of conditions.
BuildersMarker – Whatever structure is being created, the BuildersMarker features a chunky nib to write on styrene, wood, stone and rough surfaces. It features an aluminium barrel and a toughened nib to make its mark on the toughest surfaces.
Concrete Marker – Make the Concrete Marker the foundation of any tool bag, which allows professionals to make marks on brickwork, grouting and any rough surfaces.
Plumbers Marker – Water is no worry for the Artline Plumbers Marker, which writes on most wet surfaces including copper, plastic and most types of metal with its unique ink formulation.
Electricians Marker – There's no crossing of wires when it comes to the best marker for electricians. A twin ended marker is ideal for writing on electrical tags or marking wiring. Plus, as it's non-conductive, it's completely safe to use!
Gardeners Marker – From Alyssum to Zebra plants, green fingered gardeners can get out and mark their pots, plant labels and leaves.
Chris Collins, Business Development Manager for Shachihata Europe said: "With the EKPR range, we've created a selection of products that have been highly engineered and developed for specific trades. With every marker in the range, we've created a trustworthy product that tradespeople can rely on – whatever their requirements."
Alongside the new EKPR collection, Artline has also created unique POS materials for retailers to display. These clearer, eye-catching product displays makes choosing the ideal product easier for customers.
Artline will be exhibiting the full range at Scotland Build 2019. Find out more now about the EKPR range at www.shachihata.eu