We all understand that it is important to be able to be who you are no matter who that person is. As our society evolves and perceptions change, the idea of being able to be who you want with no fear is now a reality for a lot of people. Although being part of the LGBTQ+ community is more commonplace than ever many individuals still struggle trying to find their own identity and establish who they are.
The Electrical Industries Charity are beginning to receive more and more calls from those who may be struggling with their self-identity or from family members who are adjusting to a child, brother, sister or partner who is trying to establish who they are. Reaching out to the Electrical Industries Charity is the best first step you can make to change your life and your relationships. Caroline, a power station employee, contacted the Electrical Industries Charity after attending a Mental Health Awareness Training session hosted by the charity at her workplace.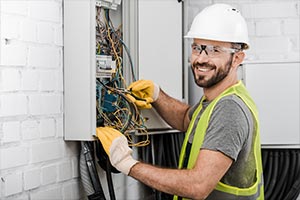 Upon speaking to our welfare team Caroline raised concerns about her daughter, Rachel, who had begun to dress in a more masculine manner and had cut her hair short. Caroline had contacted Rachel's school to understand if her daughter had been behaving differently within schooltime. The school informed Caroline that Rachel had asked to be referred to as 'Ben' during school and had asked her peers and teachers to use masculine pronouns.
Rachel had begun to live as Ben throughout schooling hours and had now started to become Ben at home too. As Rachel became more comfortable with her identity and chose to be Ben, Caroline was very accepting and approached the charity for support and a listening ear. As well as providing a shoulder to lean on the welfare team also signposted Caroline to the NHS Gender Identity Development Service (GIDS) website. The GIDS site is aimed at parents and carers of individuals who do not feel comfortable with their gender.
The Electrical Industries Charity work alongside partnership organisations and other charities. Often, the charity can point you to a team or a resource which can help you more effectively if they cannot assist directly. The most important step is to reach out and establish that first line of contact with the charity so they can be that crutch of support and point you into the right direction when you need it most.
Not only did the charity support Caroline with external information they also sourced and funded a Gender Identity Specialist Therapist to help Ben feel more comfortable and understand his own feelings more. Alongside Ben's therapy the Electrical Industries Charity supported Caroline and spoke with her frequently. Caroline was very accepting of the fact that Ben's experimentation with his gender may or may not be permanent and knew the charity would support her with either outcome. It was clear, much like many parents, Caroline just wanted Ben to be happy regardless of his gender. Ben attended a block of therapy sessions on his own and Caroline joined him for an additional block of sessions, with an aim for the pair to build an open relationship in which Ben could feel comfortable knowing that Caroline would be supportive of him no matter what. Without the support of the Electrical Industries Charity Caroline and Ben would have not built the much-needed bridges in their relationship.
Ben and Caroline continued their therapy sessions and Caroline explained since the specialised therapy Ben had been feeling much happier and much more confident with himself and with Caroline. Since the charity funded therapy Ben has become more comfortable with who he is and in turn feels as if he can make discoveries about himself without pressure or fear. Ben has since begun to be more feminine in his choice of clothing and has been wearing a small amount of makeup as well as letting his hair grow longer. Caroline remains very accepting of Ben and who he is regardless of how he chooses to live and express himself.
The Electrical Industries Charity have been pivotal in Caroline and Ben's relationship flourishing through adversity and the changes in their personal and home life. Charity sourced and funded therapy is just one of the many support avenues the Electrical industries Charity has available to those within the energy and electrical sector. Their dedicated and confidential welfare help line is open 365 days a year and is free for anyone within the industry no matter their struggle or circumstance. Being able to be who you are should not be a choice, but a given.
If you or someone you know needs support to help them understand who they are then please get in touch with our welfare team on 0800 652 1618 or support@electricalcharity.org
www.electricalcharity.org