When Red Arrow were tasked with creating a comfortable shopping experience in the retail industry for both Trespass and The Company Group, lighting designer Paul Yarnell and the team worked tirelessly to deliver effective and energy efficient commercial installations
Project one: Design and supply Canterbury and Chesterfield Trespass stores with commercial lighting
The brief: With 200 branches across the UK, Trespass has been in business for over 70 years – and Red Arrow has worked by their side with several new shop openings. Their most challenging installations include their Chesterfield and Canterbury branches, both requesting different designs and products.
The installations: Red Arrow were required to create an on-brand look that was comfortable for consumers, while also providing accent lighting designed to highlight the merchandise. But when presented with different building structures and designs, the team had to work with various luminaires to suit the separate requirements for each branch.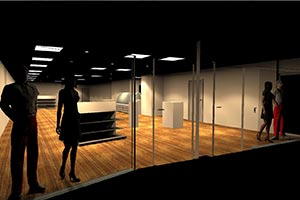 At Chesterfield, the brief was to provide an energy-saving fitting that was both high performance with a high lumen output, while also remaining aesthetically pleasing for a commercial setting. This was achieved with Red Arrow's LED Linear Hi-Lo Bays, which offer a daylight and motion sensor accessory that adapts to the changing available ambient light – ideal for retail stores open from morning till night. Equipped with an opaque diffuser to reduce glare, these luminaires were perfect for this project.
The Canterbury branch's brief, on the other hand, was slightly different. 'The team at Canterbury wanted to update their lighting design and create a high light output with minimal glare for their shoppers. But the structure of the ceiling caused limitations on where we were able to recess the fittings,' says Paul. 'Working with Commercial Lighting Systems, we supplied surface-mounted Bastion 600×600 panels, which produced a good level of uniformity. And circular wall washer shop lights – these could be aimed to create feature lighting on each side of the store. Collectively, these products achieved 600-700 lux approximately.'
Products supplied:
Bastion 600×600 LED panels
Circular Wall Washer shop lights
End result: With a surface mount conversion kit, Red Arrow's Bastion LED panels can be easily used as either fully recessed ceiling fittings, or as surface mounting lights. By using the same fitting for each use, the resultant light appearance remains the same, making them ideal for multi-purpose applications. Both branches were pleased with Red Arrow's design and installation, creating a shopping experience that is both comfortable, but also fit for purpose.
Project two: Design and supply new warehouse and store lighting for The Company Shop Group, Grimsby
The brief: For five decades, The Company Shop Group have been creating a new kind of supermarket for the UK's biggest retailers, manufacturers, food service and logistics providers in the country. And when they approached Red Arrow to improve the lighting quality in their Grimsby store, while avoiding any additional electrical work and building alterations, the team were ready for the challenge.
The installation: After surveying the site to assess the customer's requirements of upgrading both the store and warehouse fittings, Paul decided on two different solutions for each area.
By adapting and replacing the existing lighting with LED fittings in the store area, Red Arrow were able to achieve better lighting without increasing the quantity of luminaires. And in the warehouse space, the replacement of high intensity discharge lamps with LED High Bays resulted in a reduction of power consumption by more than 150W per fitting. This was further enhanced by the use of microwave and daylight sensors, allowing the fittings to only turn on when required, without any manual intervention.
Products supplied:
Store
Bastion 1200×600 LED panels
Warehouse
100w compact LED High Bays
Microwave detection sensors
Daylight detection sensors
End result: Different products and designs were used in the store and warehouse spaces to achieve the light levels briefed for each space. This resulted in 300 lux in the store and 200 lux in the warehouse, creating a pleasant shopping experience and a comfortable working environment for The Company Shop Group's employees. The project also resulted in another project for Red Arrow – working with AB Electrical for Middleton's Company Shop Group, based on a like-for-like replacement.
About Red Arrow Electrical Distribution
Red Arrow Electrical Distribution is a streamlined, quality-focussed manufacturer and distributor of competitively priced lighting and electrical products to the wholesale industry. We are committed to providing an excellent sales and customer service experience, whilst providing a wide range of quality products at very competitive prices. We build strong, long-term relationships with suppliers ensuring quality and continuity of product supply and ongoing product development.