Engineering solutions provider, Boulting Ltd has made a number of promotions across the organisationto further strengthen its business offering. Glyn Shawcross has been appointed as engineering and design director, Louis Steyn takes up the role of IT director and Paul Mannion will move to the position of electrical and instrumentation (E&I) operations manager.
Glyn Shawcross, who joined Boulting Ltd in 2011, has been promoted to the role of engineering and design director and will be responsible for engineering design of all mechanical, electrical and instrumentation installations across the non-nuclear business units. Shawcross is also responsible for the technical, financial and strategic responsibility of the engineering and design department, which consists of over 60 multi-disciplined designers and engineers.
A chartered engineer, Fellow of the Institution of Engineering and Technology (IET) and a certified functional safety engineer with over 38-year experience in the sector, Shawcross joined Boulting as a senior electrical engineer. In addition to his role in the engineering and design team, Shawcross voluntarily undertakes the roles of professional registration advisor and continuing professional development advisor on behalf of the IET, as well as being the company's IET representative.
Alongside Shawcross's promotion, Paul Mannion, who joined Boulting in 1990 as an apprentice, will take up the role of E&I operations manager and will continue his involvement in construction and project management in the pharmaceutical industry. His experience across the business in both engineering and managerial roles means he will continue to support the team to deliver varied client requirements.
Having worked at Boulting Ltd since 2007, Louis Steyn and has been appointed as IT director for the business. Steyn has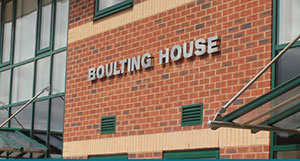 numerous years' experience in IT management roles across a variety of sectors across the UK and in South Africa.
Steyn will assist the board in developing the company's IT strategy and improving the IT department's service offering across Boulting's multiple sites. He plans to improve processes and systems and create a focus on how IT can benefit the business. In addition, he will be developing an IT strategy to help assure the ongoing security of the digital services Boulting offer.
"The series of promotions we have made over the past few months will continue to strengthen our business," Josh Groarke, deputy managing director at Boulting Ltd said. "We wanted to recognise not only the hard work and dedication of these individuals, but also support our offering with an effective and resilient senior leadership team that has the experience and knowledge to push Boulting Ltd in the years to come.
"As an organisation that works over numerous UK sites, as well as managing projects across the globe, we appreciate that we must invest in our people first and foremost," Groarke continued. "The services we offer would be of little use without the knowledge and skills of our people, which is why these promotions will support our ongoing business aspirations."
Boulting Ltd is a multi-disciplined engineering solutions provider, operating across a diverse range of industry sectors in the UK and abroad. The organisation employs over 950 staff throughout the UK at its regional sites. To find out more information about Boulting visit www.boulting.co.uk.