A chance encounter between Ford CEO Alan Mulally and Toyota president Akio Toyoda sparked conversations that led to the collaborative production of a hybrid system for trucks. As unlikely and improbable the partnership between these two competitors appeared at first glance, alliances between businesses often prove to be beneficial to both participants and the end client.
Here, Brian Donaldson, business development authority at engineering solutions provider, Boulting, explains the benefits of working with an alliance of companies.
Although there are many definitions for the word alliance, the one consistent message is the necessity of trust. In my opinion, an alliance doesn't necessarily constitute a legal contract or a joint venture, it is simply an understanding that those involved will be working for the whole, rather than for individual gain. This is the defining factor that sets an alliance apart from a supplier-customer relationship.
Integrated project delivery (IPD), is one way in which to manage an alliance. The practice promotes collaboration which is essential to a successful project, as each member of the overall team should share goals and be working to achieve the best possible end result.
Working for the whole
Working as part of an alliance can deliver a better end result, as it encourages businesses to bring in experts to the job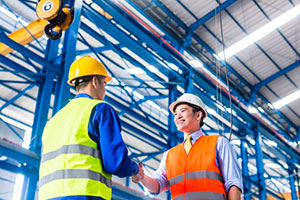 that can deliver elements of the project that may lie outside of their core competencies, while sharing knowledge with one another. For this reason, contractors may find that an alliance opens doors into new sectors.
For clients, many find it simpler and easier to have a single point of contact (SPOC) to communicate with, rather than trying to piece all the information together from several channels who may not be effectively communicating. In this way, a managed alliance can deliver a smoother service throughout the project life cycle.
These results are delivered through trust, clear goals set at the start of the project and a structured way of working that means each contractor or supplier is focused on delivering the best end result possible, on time and under budget.
Integrated project delivery (IPD) is one way of ensuring collaboration is achieved. IPD aligns each collaborators interests, objectives and practices to ensure every individual, team or business will become equally invested, sharing risk and profit in a fair and transparent manner. This could involve using target costs and including the client as a member of the team.
Trust
Because trust and good communication is vital to delivering effective collaboration, the largest challenge is obtaining this trust with a new business, perhaps without having any part in who is appointed.
Communication tools and methods including getting every involved individual working in the same room, or extremely visual project management such as a physical whiteboard, can provide a crucial base to work from. Just because management knowthe overall project timeline, don't assume that it's the same for each team member.
Inefficient communication can produce sub-par end results or even for the project to overrun or go over budget due to issues not being properly encountered for.
If the trust fails, so do collaborative behaviours — and this puts the project at risk.
Throughout its years of experience, Boulting has not only built up a long list of companies in all sectors with which it enjoys an excellent relationship, it also knows the most effective ways of working in an alliance such as insisting on regular face to face meetings, using project management tools and ensuring safety remains at the forefront of all projects. This aids it in producing successful project outcomes that meet client key performance indicators (KPIs).
A good alliance, where each party is equally invested in producing the best possible outcome, can be achieved through working with companies that have been recommended, or have been referred by a trusted middle man. This can result in a smoother project delivery, alongside a superior end result. Regardless, some of the most successful collaborations in history, such as that of Ford and Toyota, can come as a surprise even to themselves.
For more information about Boulting's work in alliances, or to find out more about how your engineering project could benefit from the expertise that an alliance can provide, visit www.boulting.co.uk.