Like many start-up businesses, Buzz Electrical Ltd had humble beginnings in a garden office attached to the family home. Now the Worcestershire Company is celebrating its 20th Anniversary this year and is one of the leading Electrical Contractors in the area specialising in Residential, Industrial and Commercial Electrical Services and Installations.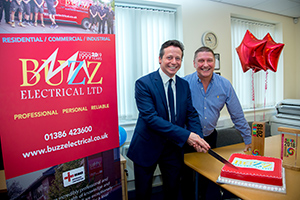 A celebration to mark the 20th Anniversary of Buzz Electrical Ltd took place at its offices on Friday 1st March when Nigel Huddlestone, MP for Mid Worcestershire launched the celebrations.
After being welcomed by Managing Director Steve Owens, Director Sue Owens and Marketing Manager Lucy Biltcliffe, Nigel Huddlestone was introduced and met the office team before having a look around the offices and hearing about some of the important company milestones and achievements. To mark and celebrate 20 successful years in the Vale of Evesham, Nigel was invited to cut the 20th Anniversary cake and launch their Anniversary Charity, Diabetes UK.
Business owners, Steve and Sue Owens began the company working from their home in Badsey in Worcestershire. Buzz Electrical was established in 1999, after Steve had worked for 20 years as a self-employed electrician following completion of his electrical apprenticeship. Employing just one person in the early days, it wasn't long before the business rapidly grew and they moved to an industrial unit in Evesham.
Continuing growth and expansion of the business 4 years ago saw its relocation to new centrally located offices in Evesham with a team of 27 as well as a specialist technical division Buzz Technical. More recently, Buzz won Small Apprenticeship Employer of the Year and Apprenticeship Employer of the Year for 2018 at the 2018 Worcestershire Apprenticeships Awards as well as becoming finalists in the prestigious national Electrical Industry Awards 2018 as Electrical Contractor of the Year for the second year running where they were also awarded 'Highly Commended'.
Today Buzz Electrical are proud of their long standing client relationships and to still be working with local householders and businesses as well as their expanding portfolio of building contractors and architects, hotels, County Councils, property consultants, schools and churches.
Reflecting on two decades in business, Steve Owens said: "Twenty years is an important milestone and I am personally proud of the success we have achieved. It's very much about the team and retaining the personal values that underpin my business philosophy – Buzz Electrical is all about being a company that understands our clients' needs and gives professional efficient service to all our customers, large or small"
"It is testament to our fantastic team who all work so hard and are dedicated that has enabled us to invest in growing the business, creating new jobs and focussing on continuous improvement over the years which has enabled us to be successful"
"We wanted to celebrate but also to raise awareness and funds for Diabetes UK, a charity close to our heart. We are planning some events throughout the year to support Diabetes UK including an Anniversary Charity Ball at The Wood Norton in November"
For more information about Buzz Electrical, please contact:
Lucy Biltcliffe

Buzz | Electrical Ltd |

lucy.biltcliffe@buzzelectrical.co.uk |

01386 423600 |

www.buzzelectrical.co.uk