Whether you're a plumber, builder, electrician, mechanic, self employed or employed, tool theft is no joke. With recent figures suggesting that tool theft is on the rise, it's more important than ever to protect your livelihood from the devastating consequences of chancers and thieves.
As tradesmen, we know that tools are an essential part of everyday life, but what if this was taken away? No tools means, no work. No work, means no money. No money, means no bills paid. And so begins a snowball of devastation. The unfortunate thing is that these attacks quite often occur with little or no warning, in fact you may only discover the theft as you are due to leave for work, which is why we recommend as many deterrents as possible to keep your tools safe and secure.
So let us help you to protect your tools in a few simple steps . . .
1. Tool Insurance
This is one of the first things you should own as a tradesman. With so many companies offering different levels of cover, there really is no excuse not to have this in place. Yearly cover works out at pennies per day, offering cover in excess of £10,000 in many cases, giving you peace of mind should theft occur, so the question is . . . how can you afford not to?
2. Show them you mean business
While some people argue that a huge padlock or van lock indicates there is something of value inside, it also proves that you are serious about protecting your belongings, therefore discouraging any chancers or passers by to break in.
3. The Krypton Factor
That got your attention didn't it?! If, on the off chance thieves do manage to gain entry, the last thing you want to do is make it easy for them to walk away with your hard earned collection of tools. Enter the krypton factor. This is where we recommend heavy duty, lockable tool boxes, lockable cabinets, lockable drawers, or anything else that requires time (and patience that they likely wouldn't have) to decipher. With any luck, these lockable items might just stall them enough to walk away. And don't forget to remove batteries and chargers for additional security, storing these in separate sections.
4. Mark your tools
They may seem like a simple thing to do, but it's very effective when it comes to recovery of tools. Mark them in a discreet yet visible place with either a name, symbol, logo or anything that is relevant to you and would make your tools instantly recognisable. It's also a good idea to take photographs of these as proof should the need arise.
5. Tool trackers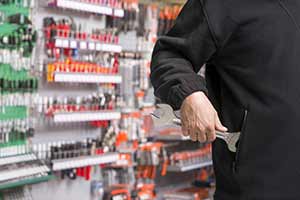 Brands such as Milwaukee, Dewalt and Makita offer tracking devices that are easily attached to your power tools providing easy connectivity, GPS signal and many alerts. We highly recommend these as a theft deterrent due to their quick and easy trackable features. Thieves won't get far with these in place!
6. Smart parking
For a no frills approach we recommend thinking outside the box when leaving your van unattended. Parking against a wall, building, gates or anything else that may cause an obstruction is a simple yet effective deterrent. Afterall, there's no use trying to break in, if they can't even open the doors!
7. CCTV
An oldy but a goody. It's safe to say that CCTV has evolved over the years, with many improvements along the way. Gone are the days of bulky tapes and stacks of storage, you can now check in at any time thanks to the technological advancements of CCTV monitoring apps. With the ability to keep an eye on your belongings at all times, you can quickly alert the police should anything appear untoward. CCTV provides live video footage, making it an essential part of catching the thieves, and they will be caught.
And finally . . .
Although a determined thief is hard to deter, we firmly believe that you can reduce the risk of becoming a target by following the tried and tested suggestions above. So what are you waiting for? Make the changes today, and lets stamp out tool theft once and for all.
For more information about Tool theft please visit https://www.toolden.co.uk