Apprentices from Defence Munitions Gosport took part in a Scrapheap Challenge-style CEMAST competition designed to test their flair for manufacturing and ability to work as a team.
Eighteen apprentices, who are all working towards a L3 Advanced Apprenticeship in Mechanical Manufacturing Engineering, took part in 'Phase Wars', an annual competition hosted by Fareham College. Working in partnership with Defence Munitions Gosport, it pits 1st, 2nd and 3rd phase apprentices against one another.
The apprentices were given one week, and a budget of £200 for materials, to design and make something in the manufacturing workshop at CEMAST – Fareham College's centre of excellence for engineering, manufacturing and advanced skills training.
There were no rules on what the students could make, but they were encouraged to produce products that were interactive and relate to science, technology, engineering and mathematics (STEM). They were also given a month to plan what they were going to produce, create engineering drawings and settle on what materials they were going to use.
Judged by senior management from Defence Munitions Gosport, this year's competition was won by Phase 3 students:
Matthew Harrison, Ashley Biginton, George Ballard, Joe Salmon and Thomas Brading.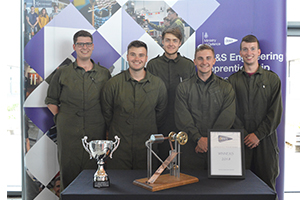 The team impressed the judges with their V2 Piston Engine, made using a combination of materials including brass and steel. The initial prototypes were constructed ahead of the competition using CEMAST's extensive 3D printing facilities. The judges credited them on their exemplary workmanship and fabrication skills, turning out a beautifully polished piece of engineering.
Kevin Haydock, engineering apprenticeship project manager at Fareham College, said:
"My team and I came up with the idea for 'Phase Wars' when I ran the Defence Munitions Gosport apprenticeship scheme, prior to starting work with the college. Since then, it has been going from strength to strength. I've now introduced the CEMAST Engineering Challenge, which is open to all apprentices from large employers that use CEMAST for their training."
Lynn Wilkinson-Berry, from apprentice training at Defence Munitions Gosport, added:
"We have been working with Fareham College since 2006. CEMAST provides an excellent facility for our apprentices to learn and develop the skills that we require. Competitions like these are not only enjoyable for our apprentices, they also provide an excellent way for them to come together, work as a team and build their confidence."
To find out more about the CEMAST Engineering Challenge or apprenticeships at Fareham College, visit: http://www.fareham.ac.uk/