Following the successful launch of its pioneering range of next generation C.K MightyRods PRO cable rods, C.K continues to develop its range of cable routing tools, unmatched for their high quality and efficiency. With this in mind, the launch of its exciting new and innovative range of C.K spiraFLEX draw tapes marks a significant advancement in draw tape technology, making them the perfect solution for the smooth routing of cables through conduit, trunking, ducts and wall cavities.
Superb Features and Benefits
The newly developed spiraFLEX draw tapes offer some unrivalled benefits when it comes to providing the answer to hassle-free cable routing. The super flexible and immensely tough 4mm Ø spiraFLEX draw tape, offers a major improvement on standard nylon and steel draw tapes, which are often prone to twisting and kinking.
In addition, the unique helical profile of spiraFLEX a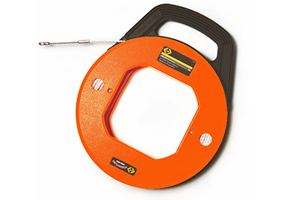 nd advanced Polyethylene Terephthalate (PET) material, greatly reduces friction, kinking and coiling, to ensure longer and smoother runs and enable the user to complete the task quickly and easily. Obstructed runs are also effortlessly navigated with C.K spiraFLEX draw tapes, which are supplied with a high tensile steel wire flexi lead to allow much smoother runs.
The benefits don't stop there either and, for added convenience, C.K has ensured that the C.K spiraFLEX draw tapes are compatible with all C.K MightyRods accessories, including the LED Torch, Magnet, In-line Swivel and Hook.
Housed within a heavy duty, rewindable, impact resistant cassette, the C.K spiraFLEX draw tapes are available in lengths of 10m, 20m and 30m.
Graham Godfrey, Brand Manager at C.K comments:
"Cable routing can be notoriously difficult and we are delighted to have found the perfect solution with our innovative new C.K spiraFLEX draw tapes, set to make cable routing a straightforward task. With the introduction of the C.K spiraFLEX draw tape range, C.K now offers a collection of industry leading cable routing solutions."
A high quality product, offering a multitude of benefits to the end user, the new C.K spiraFLEX draw tape range is set to become a popular choice with anyone looking for a superior cable routing solution. Prices for the C.K spiraFLEX draw tape range start from £46.36 (ex-VAT).
For further information on the C.K spiraFLEX please visit www.carlkammerling.com or call 01758 704704.