BAKS Cable Management maybe new to the UK market but the containment giant's well-known branding has always been associated with innovative quality products offering a complete solution for Projects and Contractors around the Globe.
The Companies impressive portfolio of High profile projects has expanded once again with the addition of Cardiff's new HMRC regional office block deemed to be wales largest office construction project, itself gathering a tremendous amount of publicity.
Freshly appointed Commercial Director, Mr Tony Harris, speaks out on his team's success and highlights the company's future growth plans. "This is just one of a long line of projects that BAKS are securing across the country and goes to show how diverse we are as a cable containment manufacturer. The industry hasn't really changed over the years and a fresh approach to Fast fix metal containment has long been overdue, but our product is only part of the story, service plays a huge role, next day availability across 90% of the country is a major benefit, With a growing number of stockists and distributors were becoming a favorite amongst contractors, adding to the mix our excellent sales and Technical staff ensure a tailor made service which helps us stand out in the market place, We already have plans to increase the number of regional distribution centers and greatly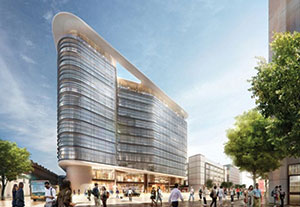 increase our core lines which contribute to our impressive offering of 27,000 products.".
For more information on projects such as Apple HQ, Aston Martin, 02 Arena London, Network Rail or Hinkley point Visit their website www.baks.com.pl/en or Search "Baks" on social Media.
Contact their Sales team on 01327 770167 for details on Contractor Supported Prices, becoming a distributor, Trading Partners or info on their fast fix tray, Basket, trunking and Ladder.