Available from specialist distributor Switchtec, Kyland's Opal series industrial Ethernet switches meet the growing demand for smaller, smarter control panels that need to communicate with external devices and systems in the industrial environment.
Available in 5, 8, and 16 port variants, the versatile Ethernet switches are unmanaged types, and as such require no setting up, they are plug and play. An unmanaged switch allows Ethernet devices to communicate with each other automatically using auto-negotiation to determine parameters such as data rates and whether to use half-duplex or full-duplex mode.
Kyland's Opal series Ethernet switches are supplied with dual/redundant power inputs, and beingmulti voltage they are able to work on 18 to 30VAC, and 12 to 48VDC powered systems.
The switches are DIN rail mountable and are of a compact design, the smallest OPAL 5 measuring just 115 x 68 x 30mm in size. Supplied in a rugged aluminium DIN rail mount housing the switches are rated to IP30 and have an operating temperature range of -10 to +60 degrees C. For ease of use in deployment, the switches feature full LED Link/ACT indication and dual LED power supply indication.
Kyland's Opal seriesEthernet switches feature selectable storm protection. A broadcast storm occurs when a network system is overwhelmed by continuous multicast or broadcast traffic. When different nodes are sending/broadcasting data over a network link and the other network devices are rebroadcasting the data back to the network link in response, this eventually causes the whole network to go into meltdown and the failure o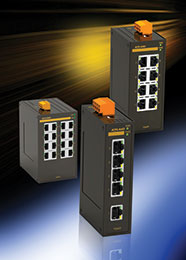 f network communication.So being fitted with selectable storm protection, the Ethernet switches protect the network from this potentially dangerous problem.
The Opal series is manufactured in accordance with FCC CFR47 part 15 and EN55022/CISPR22 Class A for EMI, and IEC61000-4-2/3/4/5/6 and IEC60068-2/27/32 for EMS. And providing confidence for the specifier or buyer, the all-important approvals are cULus, UL508 class1 Div 2, Atex zone 2 IECEx, FCC and CE approved. Further, each Kyland Opal Ethernet switch is supplied with a 5-year manufacturer's warranty.
For use in control panel systems for building management systems (BMS) integration, the switches will find favour with panel builders, equipment manufacturers, OEMs and those directly involved with BMS integration. They are a cost-effective product providing a compact, easy to install and set up solution that is fully approved and manufactured to internationally recognised standards.