Hamilton Litestat has launched a CPD training programme entitled: An 'Intelligent' and 'Smart' approach to lighting control. Accredited by 'The CPD Certification Service', its aim is to educate about new technologies and help trainees and qualified electrical wholesalers/installers up-skill in the area of smart lighting control.
With technology moving at such a fast pace, CPD training helps to ensure that academic and practical qualifications do not become obsolete. Hamilton's CPD focused on smart lighting control is designed to encourage proactive learning as well as help identify and capitalise on valuable new business opportunities within the growing smart control sector.
The CPD provides an overview and history of the lighting control sector; an appreciation of where it can be used; an introduction to smart lighting control and the different protocols currently on offer; the integration of other smart control applications such as blind control, and an introduction to smart audio control.
"During its 50 years, Hamilton has played a leading and forward-thinking role in the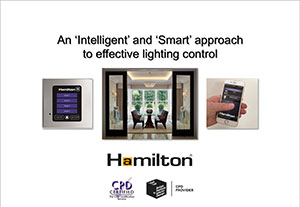 development of lighting control technologies – from the simple switch through to intelligent dimming and today's smart controls. The company is well-placed to provide CPD training to both qualified and trainee installers," says Gavin Williams, Hamilton's Head of Marketing. "The CPD provides details on the latest lighting technology to suit the residential, hotel, commercial and retail sectors, as well as exploring smart audio control solutions too, which are increasing rapidly in popularity."
The programme, which takes one hour plus questions, is delivered by Hamilton's knowledgeable staff and can be undertaken at the company's Bristol headquarters or London showroom. To book this accredited CPD module, contact Alison Osmond on 01747 860088 or email her on cpd@hamilton-litestat.com
The CPD training programme is part of Hamilton's on-going commitment and investment in training, supporting installers to upskill and keep abreast of the latest smart control technological developments, as well as helping those undergoing their initial training in order to help bridge the industry's current skills gap. The family-run British business recently became a member of CEDIA and is now an approved Continuing Education Unit (CEU) Provider. Its training courses held at its Mere facilities contribute four CEUs towards the 30 CEUs CEDIA-certified professionals need within three years.